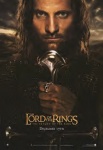 The final chapter in Peter Jackson's epic film adaptation of J.R.R. Tolkien's Lord of the Rings trilogy, The Return of the King, racked up a domestic gross of $125 million during its first five days of release. Add in a foreign box office total of $121 million for the same period and the film's worldwide box office 5-day total is nearly a quarter of a billion dollars. The Return of the King bested The Two Towers' $102 five-day total by an impressive 23%, while accounting for 57% of all domestic ticket sales versus just 49% for The Two Towers. The Return of the King occupied some 14,000 screens worldwide and easily broke the global five-day record of $202.8 million previously held by The Matrix Revolutions.
Domestically, however, The Return of the King's five-day total is third, behind The Matrix Reloaded's $144 million and Spiderman's $135.8 million. The Return of the King's three-day weekend total of $73.6 million is a December record but only the third best this year, behind Matrix Reloaded's $91.8 and X2's $85.6, and the seventh best of all time.
The first two LOTR films had 'good legs' and managed to stay on a large number of screens for a long time. The steady improvement in the performance of each of the LOTR films from a 3-day total of $47.2 million for the Fellowship of the Ring to $62 million for The Two Towers to $73.6 million for The Return of the King indicates that the audience for the films is growing. Based on the performance of the first two LOTR films The Return of the King should be able to avoid the precipitous drop-offs that befall most contemporary cinematic blockbusters, which is great news for retailers since The Lord of the Rings is a key property in both the game and toy arenas.
The Return of the King marks Marvel's last direct 'Toy Biz' exposure to the vagaries of the action figure market, and it is a good bet to be a hit. Save for the LOTR license, which was signed years ago, Marvel's Toy Biz division now creates and designs toys but the manufacturing and distribution are handled by other entities. The Return of the King is the last vestige of the era when Marvel was primarily a toy company (Toy Biz) -- and it could prove to be a very profitable vestige.
As one of the leading fantasy epics of the twentieth century, Lord of the Rings has inspired every sort of fantasy game from role-playing games, to collectible card games, collectible miniatures games, and board games -- and its influence will continue to be felt in the game market for years to come as various manufacturers explore the many different facets of J.R.R. Tolkien's crucially important epic fantasy saga.