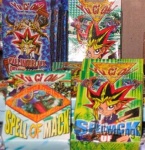 U.S. Immigration and Customs Enforcement (ICE) agents confiscated the largest cache of counterfeit Yu-Gi-Oh! cards ever recovered in North America. The raid, which was executed in the Los Angeles area late last week, took place after a vendor in downtown Los Angeles offered to sell an ICE undercover agent 250 cartons of the counterfeit cards for more than $36,000. So far no arrests have been made in the case, but the investigation is continuing. The initial lead in the probe came from investigators working for Yu-Gi-Oh!'s North American trademark holder, Upper Deck.
ICE officials believe that the counterfeit cards were manufactured in China, and Upper Deck officials thought that the cards seized last week would be worth several million dollars at retail if they were genuine.
The game is supported by a highly rated anime series shown daily on the Kids' WB network and a top ten (in the U.S. at least) manga published by Viz, LLC.