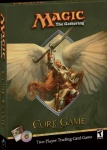 Hasbro Inc., the nation's second largest toymaker, reported that sales grew by 4% in the third quarter driven largely by a 7% growth in the games segment. But the growth in games came from the board game and 'plug-and-play' categories rather than from trading card games, as Hasbro President & CEO Alfred J. Verrecchia reported that both Duel Masters and Magic: The Gathering were 'down in a year-over-year comparison' to 2004.
While sales in the overall games category rose from $236.5 million in Q3 2004 to $252.9 million in 2005, operating profit declined 8% due to the lower margins in electronic games versus trading card games. Verrecchia did indicate that the most recent Magic releases, 9th Edition and Ravnica, had helped Hasbro 'narrow the decline' in trading card sales considerably in Q3 versus the first two quarters of 2005 (see 'Star Wars Lifts Hasbro Sales').
Sales of toys in the domestic market soared to $393.1 million for the quarter compared to $369.7 million a year ago, once again reflecting a strong performance from Hasbro's Star Wars toys. Verrecchia noted that sales of G.I. Joe, Action Man and Beyblades continued to decline, but he hoped that the release of the new G.I. Joe Sigma Six line would revitalize that property and that B'Daman, a high tech marbles game that has been successful in Europe, would continue to build on its successful U.S. launch.
In spite of an overall growth of net earnings for the quarter from $88.7 million in 2004 to $92.1 million, and a corresponding increase from $.43 per diluted share to $.47, Hasbro's stock remained stationary in the lower middle of its 52-week range, in part because analysts had been predicting a bigger jump in earnings.
Sales in the games category were driven by a strong performance from the 70th Anniversary Edition of Monopoly, by new 'electronic/DVD' versions of other Hasbro standbys such as Trivial Pursuit, and by a number of 'plug and play' titles such as Star Wars Light Saber, MX Dirt Rebel and Wild Adventure Mini-Golf.