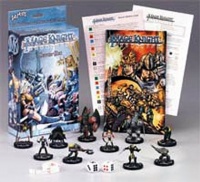 Here are ICv2's Top Five Game Stories of 2001. These rankings are based on the response of our users and our own assessment of the business impact of these events on pop culture retailers.
1.Mage Knight establishes a new category. WizKids' Mage Knight launch was actually a little over a year ago (see 'December Product of the Month'), but it was in 2001 that the line truly boomed, creating a new category, the Collectible Miniatures Game (CMG). in the process. WizKids also ended the year strong, announcing that it would be allocating Mage Knight Dungeons, its January 2002 release (see 'Wiz Kids Allocates Mage Knight Dungeons'). And WizKids also made a series of announcements in 2001 (see 'WizKids To Do Marvel CMG,' 'Wiz Kids Announces Battletech,' and 'Wiz Kids To Do DC Comics CMG') that ensures a rapidly increasing flow of CMGs in 2002.
2.d20 -- weeding out the weak. After the release of D&D 3rd Edition at Gencon in 2000, gamers' appetites for d20 RPG products were whetted, and it seemed like every d20 product sold well. As over 70 companies entered the d20 products arena, and retailers were confronted with increasing numbers of d20 products to order, market pressures and a Wizards of the Coast crackdown coincided to force limitations on the growth of d20 games (see 'd20 Crackdown -- The Aftermath'). Now consolidation is the name of the game (see 'White Wolf Mounts d20 Offensive'), and the d20 system is making its way into non-fantasy genres (see 'Judge Dredd d20 RPG,' and 'Green Ronin To Publish Superhero RPG'). d20 remains the most important event in the RPG field in this young decade, accounting for a lot of the creative excitement and sales in the industry. It will take that title for a much longer period if the underlying principle, that a preponderance of RPGs using a single game system will make it easier for consumers to enjoy (and spend money on) gaming, proves out.
3.Movie and TV licensed games. Other than d20, games based on movies and television provided the biggest boost to sales in 2001. Score's anime-based DBZ CCG was consistently on our Top 10 Cool Games list month after month, and Score also finished the year strong with its new Buffy the Vampire Slayer CCG (see 'Score Back to Press on Buffy, DBZ Cell Saga'). On the movie front, WotC and Decipher duked it out with CCGs based on Harry Potter (see 'Harry Potter WotC's Biggest Ever') and Lord of the Rings (see 'Lord of the Rings Starter Deck),' respectively. Decipher's LotR RPG (see 'Decipher Adds Rings RPG'), FFG's LotR board game (see 'Fantasy Flight Gets Lord of the Rings') and Games Workshop's LotR miniature games (see 'Alliance/Diamond have LotR Exclusive') were also in the mix.
4.Game distributor consolidation, part 1 -- the big get bigger. Alliance strengthened its geographic coverage and expanded its market share lead over its nearest competitor by acquiring Berkeley Top Line and Barchetta, two California-based game distributors (see 'Alliance Acquires Berkeley Top Line Barchetta'). Alliance also strengthened its position as the one distributor account every game store had to have by negotiating exclusive distribution deals on the Games Workshop and Fantasy Flight Games Lord of the Rings games (see 'Fantasy Flight Gets Lord of the Rings' and 'Alliance/Diamond have LotR Exclusive').
5.Game distributor consolidation, part 2 -- the small get smaller. Two long-time game distributors closed their doors in late 2001. Mississippi-based Zocchi Distribution closed shop first, with uncertain prospects for its creditors (see 'Zocchi Distribution Closing Its Doors'). It was followed by Wargames West, which shut down at the end of December (see 'Wargames West Tanks').