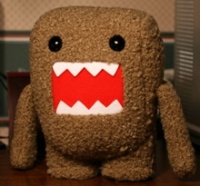 Florida-based Play Along Toys, a division of Jakks Pacific, has been named the North American master toy licensee for Domo-Kun, the mascot for Japanese broadcaster NHK. Nickelodeon has acquired 26 two-minute stop action shorts, which it plans to begin running this fall on its TV networks (see 'Nickelodeon Gets Anime-Mated'). By that time Play Along Toys plans to have both plastic and plush Domo-Kun figures available at a number of retail outlets.
Play Along Toys got its start in the late 90s with a number of licensed celebrity toys including Britney Spears, Mandy Moore and Serena Williams dolls. In 2002 Play Along resurrected the Care Bears plush toy line of the 1980s, giving the company the expertise in plush figures that should pay dividends with Domo-Kun. Jakks Pacific acquired Play Along, which also manufactures Cabbage Patch Dolls, in 2004.
Big Tent Entertainment, which awarded the Domo-Kun toy license to Play Along, has previously given out the Domo-Kun apparel license to Changes (which explains those cool Domo-Kun t-shirts in Hot Topic stores) and greeting card and calendar rights to Andrews McMeel.