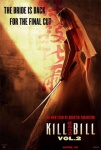 Quentin Tarantino is planning to write and produce an anime feature film, which will serve as a prequel to his two Kill Bill films. Production IG is expected to create the film, which will be done in the same style as the animated segments in Kill Bill I (see 'Production IG Adds Anime to Kill Bill'). The prequel will provide Bill's backstory by explaining how he became such a ruthless killer. Tarantino will write and produce (but not direct) the anime prequel.
Tarantino's participation in the project is certain to expose anime to new audiences (just as the Animatrix and the anime sequences in Kill Bill have done), and it demonstrates once again that anime is increasingly a force to be reckoned with and a major influence on today's pop culture.
Kill Bill 2, which has received excellent early reviews, is slated to open on April 16. NECA is producing collector-oriented action figures for the 'R' rated Kill Bill films (see 'NECA to Do Kill Bill Figures').