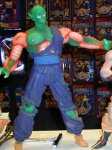 IF Labs, the company founded by Funimation and Irwin Toy to create high end Dragon Ball figures (see 'Funimation and Irwin Toy Team Up For DBZ Toys') displayed a few of their increasingly sophisticated designs at the Diamond Retailer Summit in Las Vegas. IF Labs intends to create three releases a year for each of three different properties, the Dragonball Z Movies, the original Dragon Ball series, and Yu-Yu Hakusho. Each release will include four different figures or figure sets. The figures will be larger than typical action figures, with the average height coming in at nearly nine inches tall, and the figures will be more expensive at retail with prices ranging from $14.99 to $17.99.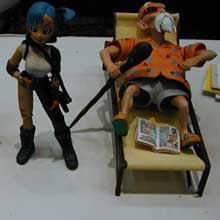 The packaging will be as deluxe as the figures themselves with a translucent box, which contains a background card as well as the figure and a bio of the character portrayed.
If the characters are smaller, as in the case with the original Dragon Ball series figures, the package will include two figures (Goku
comes with Monster Carrot) and sometimes accessories as well (Master Roshi has a lounge chair and magazine in addition to the beautiful Bulma).
The key to creating a better action figure starts with using the best possible sculptor to create a great likeness.

IF Labs is using the Infinite Mindz group that has helped McFarlane Toys revolutionize the world of action figures over the past decade.

The skill involved in creating these high end action figures is amply demonstrated in the Battle-Damaged Super Saiyan Goku figure, which was on display at the Diamond/Alliance Las Vegas Summit.

The quality of these figures indicates IF Labs is right on track to provide pop culture retailers with an excellent line of collector-oriented action figures based on Dragonball Z, the original Dragon Ball series, and Yu-Yu Hakusho (a great anime property that you will be hearing a lot about in the next year).