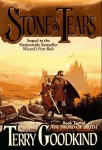 Spider-Man helmer Sam Raimi may not get his wish to direct The Hobbit, but he is bringing the weekly syndicated fantasy series back to television with Wizard's First Rule, which will be based on Terry Goodkind's bestselling epic fantasy series The Sword of Truth. Raimi will re-team with Rob Tapert to produce the series at ABC. Tapert and Raimi were responsible for the 'golden age' of syndicated TV fantasy in the 1990s with shows such as Hercules: The Legendary Journeys, and Xena: Warrior Princess.
Wizard's First Rule, which follows the adventures of Richard Cypher, a woodsman who becomes a magically-empowered leader and joins forces with a mysterious woman to battle a vicious tyrant, is set to go into production on 22 episodes in May. Like Goodkind's The Sword of Truth novels, each of which tells a self-contained story while advancing an overarching narrative, the episodes of Wizard's First Rule will also include individual narratives along with elements of a longer serial drama.
The first season of the Wizard's First Rule, which has been in development for nearly a year, will debut in the fall of 2008. According to Variety the Tribune Group of independent TV stations, historically a strong supporter of syndicated dramas, has acquired the series.