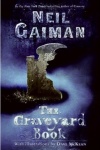 This week Harper Collins published Neil Gaiman's The Graveyard Book ($17.99), a 320-page young adult fantasy novel with illustrations by Dave McKean. The hero of the saga is a normal boy named Nobody Owens, who is known to his friends as "Bod." Bod would be even more normal if he weren't an orphan, who is being brought up in a graveyard by ghosts—and he dares not leave the graveyard for fear that he will be attacked by a man named "Jack" who has already killed Bod's parents.
Gaiman's fertile imagination is on full display in this richly textured novel, which includes a mysterious graveyard gateway that leads to a desert in which there is an abandoned city populated only by ghouls, and then there is the ancient Indigo Man who lives under the hill, and the unforgettably strange and scary menace of the Sleer.
Gaiman's previous YA novel Coraline has been made into a stop-motion animated feature film and adapted as a graphic novel by P. Craig Russell as well (see "Coraline Set for Feb. 6th Debut").