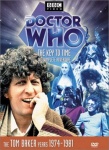 Many pop culture retailers are going to take a pass on competing with mass market discounters on this fall's major DVD releases, even though many of the 'big' films coming out on disk this autumn, such as Spider-Man, Lord of the Rings, and Star Wars Episode II: Attack of the Clones, have strong roots in comics, fantasy and science fiction. But while the big chains are concentrating on the 'major' releases, pop culture retailers should take a close look at two DVD box sets coming out from the BBC in September and October.
The BBC's October release should be the most intriguing for pop culture retailers. Doctor Who: The Key To Time contains only episodes featuring the most popular Doctor of them all, Tom Baker in one of his most stirring adventures. This six-disk box set, which is being distributed in the U.S. by Warner Home Video, will have a retail price of $124.95. Baker, the most charismatic of all the fine actors who portrayed Doctor Who, still has a strong fan following -- and there is little doubt that the long-running Doctor Who series was at its peak during the Baker years. It should be interesting to see whether The Young Ones and the Tom Baker Doctor Who shows, which were extremely popular during the 1980s, can catch some lift from the current 80s revival in pop culture stores.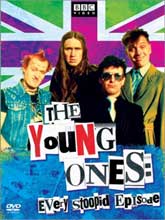 On September 20 the BBC is releasing The Young Ones: Every Stoopid Episode (see '80s Retro -- British Style'). The Young Ones Box includes every episode of the show plus plenty of features including guides to the guest stars and bands (a top band is featured in nearly every show), and the entire package retails for $59.95.