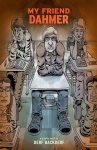 Abrams ComicArts plans an ambitious spring list of graphic novels and art books, including a graphic novel about Milwaukee serial killer Jeffrey Dahmer, a Dan Clowes art book, a Garbage Pail Kids art book, a graphic novel biography of Hunter S. Thompson, and an anthology of stories for middle school kids.

My Friend Dahmer, by Derf Backderf, tells the story of serial killer Jeffrey Dahmer from the perspective of a high school friend. This 224-page, two-color, 6"x9-1/4" hardcover will retail for $24.95; a paperback will retail for $17.95. It will street in March 2012.

"It doesn't make excuses and it doesn't say he could have been saved," ComicArts Executive Editor Charles Kochman said. "I don't think Jeffrey could have been saved, but I do know that 17 people didn't have to die, because all the warning signs were there. I was reluctant to even read it, much less to publish it, but everything I thought it was, it wasn't. It's one of the most amazing graphic novels on our list."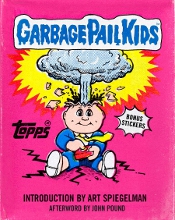 Garbage Pail Kids
, another title in ComicArts' ongoing collaboration with The Topps Company, is a 224-page, 5-1/2"x7-1/8" hardcover with wax jacket (and four stickers), which will release in April at $19.95. It includes all 206 images from
GPK
Series 1 through 5 shot from the original transparencies, along with a special set of four previously unreleased bonus stickers. It features an introduction by Art Spiegelman and an afterword by John Pound, both of whom contributed to the card sets.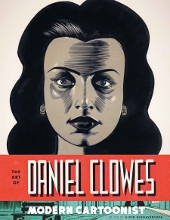 The Art of Daniel Clowes: Modern Cartoonist
, by Alvin Buenaventura (
Kramer's Ergot
) is a monograph on the creator of
Ghost World
,
David Boring
,
Ice Haven
,
Wilson
, and other comics and graphic novels from the last 25 years. It includes an introduction by George Meyer, an interview by Kristine McKenna, with essays by Chip Kidd, Susan Miller, Ken Parille, Ray Pride, and Chris Ware. All the art is reproduced from the originals. This 224-page 9-1/4"x12" hardcover with jacket will ship in April at $40 retail. It will tie into a traveling exhibition of Clowes' work that will first appear at the Oakland Museum of California on April 14th, 2012.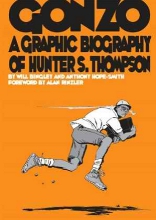 Gonzo: A Graphic Biography of Hunter S. Thompson
is a 180-page, 6-1/2"x9-1/4", shipping in April at $17.95. It's written by Will Bingley, with art by Anthony Hope-Smith and a foreword by Alan Rinzler.
Explorer
is an anthology of six stories for middle school students, all about a mysterious box. Contributing artists include Raina Telgemeier, Dave Roman, Kazu Kibuishi, and Emily Carroll.
For information on ComicArts releases for later in 2012 and beyond,
click here
.