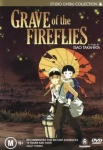 Sentai Filmworks announced the acquisition of the anime masterpiece Grave of the Fireflies, a powerful document of World War II written and directed by Isao Takahata and based on the semi-autobiographical novel by Akiyuki Nosaka. Roger Ebert has called this searing portrayal of two orphans left to their own devices during the firebombing of Japan during the final days of the War, "one of the most powerful war movies ever made."
Takahata, who formed Studio Ghibli with Hayao Miyazaki, used the Ghibli animators to create Grave of the Fireflies, but the film was financed and released in 1988 by Shinchosha, the publisher of Nosaka's novel, so Grave of the Fireflies, in spite of its creative origins, was never released in the U.S. by Disney, the company that has handled all the other Ghibli-produced films.
Grave of the Fireflies was originally released here by Central Park Media, and then re-released in 2009 by ADV shortly before it went out of business. Simple, poetic, and ineffably powerful Grave of the Fireflies is a brilliant evocation of a small tragedy, two children cast adrift in the chaos of war, who, by the end of the film, become emblematic of all the millions of innocent civilians who have perished in the horror that is modern warfare.

Sentai will begin digital distribution of a restored version of the 1988 classic this winter, with a DVD of the digitally restored master slated for release in 2012.