Last night's finale for the second season of AMC's The Walking Dead set all sorts of new records for the most watched basic cable drama series in TV history. The first showing of the final episode from Season 2 drew 9 million viewers, which easily topped the previous record set by the midseason premiere of the series, which drew 8.1 million viewers (see "The Walking Dead Sets More Viewing Records"). Last night's show attracted 6 million viewers in the coveted 18-49 demo, with 3.2 million of those in the hard-to-reach 18-34 group. Including its repeat showing the second season finale drew 10.5 million viewers, which is nearly double the 5.4 million viewers who tuned in for the debut of the series on Halloween, 2010.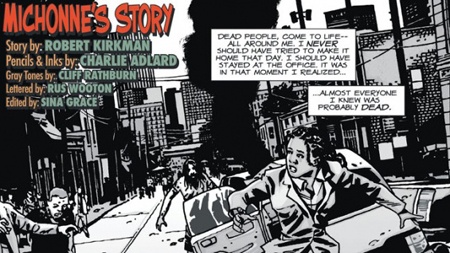 The
Season 2
finale also marked the debut of Michonne, the sword-wielding heroine, who will play a major role in
Season 3
. Danai Gurira, who plays a key role in HBO's highly-regarded
Treme
series, plays Michonne. Meanwhile
The Walking Dead
creator Robert Kirkman has revealed the origin and backstory of Michonne in a six-page comic appearing in the April issue of
Playboy
.