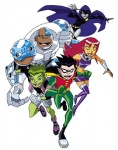 The Kids WB, the number one broadcast network in ratings for the youth demographic, announced an ambitious schedule for the rest of 2003.
Unlike the other networks, the Kids WB adds new episodes during the summer in order to keep its series fresh.
This strategy definitely worked last summer, prepping the way for the WB to dominate youth ratings in the kid 'ghettos' of Saturday morning and weekday afternoons during the 2002-2003 season (see '
Yu-Gi-Oh Ratings Strong As Season Begins
'). The Kids WB's rating dominance is largely due to the success of the
Yu-Gi-Oh!
anime, which dominates Saturday morning as the top show for boys 2-11, and kids 2-11.
Quite naturally, the WB is planning to add 52 new episodes of
Yu-Gi-Oh
! to its lineup for 2003-2004.
Yu-Gi-Oh!
will continue to be shown in the prime 4:30 pm daily and 10 am Saturday morning slots.
In spite of the enormous success of Yu-Gi-Oh!, the Kids WB is only adding one new anime series to its lineup this summer, Megaman: NT Warrior

(see 'Kids WB To Feature Megaman NT Warrior').

In the fall the network will add the Warner Brothers-produced Teen Titans series, which will debut first on the Cartoon Network in August and then shift to the WB.

The only other new series announced for fall sounds like an anime -- Xiaolin Showdown is its name, and it features a group of monks trained in the ancient art of Shaolin Kung Fu -- but this series is also being produced by Warner Brothers Animation, demonstrating, if only by imitation, anime's growing influence on children's programming here in the states.