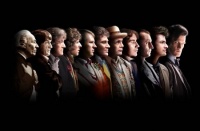 The BBC has released a one minute trailer celebrating the past 50 years of Doctor Who, leading up to the highly anticipated "The Day of the Doctor" episode, which will air simultaneously worldwide on November 23rd (see "
Global Simulcast for Doctor Who
").
Though if features no footage from the upcoming episode, it does show glimpses of all 11 Doctors, before settling on Matt Smith's Eleventh Time Lord, who narrates the trailer. There are also shots of some of the companions (Elisabeth Sladen as Sarah Jane Smith, Jenna Coleman as Clara, Billie Piper as Rose Tyler) as well as classic villains (Daleks, Cybermen, Oods) and about two dozen 'Easter Egg' iconic items that hard core fans have identified via freeze framing the trailer and posting to the net. Too bad they didn't edit in a bit of the early footage from the recently recovered nine lost episodes (see "
Newly Recovered 'Doctor Who' Episodes Revealed
").
The "Day of the Doctor" episode will feature current stars Matt Smith and Jenna Coleman interacting with past leads David Tennant and Billie Piper, as well as John Hurt in a role that's been kept under wraps.