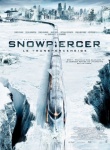 Titan's translated editions of the French science-fiction thriller Snowpiercer, which were announced at New York Comic Con (see "Titan's Next Wave of Creator-Owned Titles"), will be released in early 2014, in time for the American debut of the movie adaptation, which is being distributed in the U.S. by the Weinstein Company.

The $40 million dollar film (the biggest budget Korean-made movie of all time), was first released in August and will release in the U.S. sometime in Q1 of 2014. The movie stars a largely American cast with a lot of geek cred, including Chris Evans (Captain America), Alison Pill (Scott Pilgrim Vs. The World), Tilda Swinton (The Chronicles of Narnia, Constantine), Jamie Bell (The Adventures of Tintin, Billy Elliott,), Ed Harris (The Abyss, Apollo 13) and John Hurt (Hellboy, V For Vendetta, Alien, Doctor Who). Snowpiercer is directed by Joon-ho Bong (The Host).

The movie currently ranks No. 5 in France (over the Oct. 30-Nov. 3 weekend box office) grossing $2.2 million while pitted against Hollywood blockbusters like Thor: The Dark World, Gravity, and Turbo (which took the top three spots). The movie has grossed nearly $60 million in South Korea since its opening on August 1st.


Volume 1: The Escape
will release on January 29, 2014, followed by
Volume 2: The Explorers
on February 25, 2014. Written by Jacques Lob and Benjamin Legrand, with illustration by Jean-Marc Rochette, the story follows the perpetual journey of the last inhabitants of a frozen planet Earth, as they course through an eternal winter on board the Snowpiercer, a train 1001 carriages long. Social hierarchy has remained, with the elite living in luxury at the front of the train, and the proletariat living in squalor in the rear coaches. There is a revolution brewing though…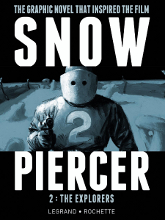 Volume 1: The Escape
will be a 112-page hardcover with B/W interiors and MSRP of $19.99.
Volume 2: The Explorers
will be a 144-page hardcover with B/W interiors and MSRP of $24.99.