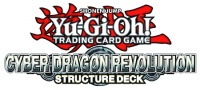 Konami will release
Yu-Gi-Oh! Cyber Dragon Revolution
Structure Decks on February 7, followed by the
Yu-Gi-Oh! Star Pack 2--2014
packs on February 21.
The
Cyber Dragon Revolution
Structure Deck
returns to the
Yu-Gi-OH! GX
era. The 40-card main deck will also include an additional two-card extra deck consisting of Zane Truesdale's Fusion Monster, Cyber Twin Dragon, and a brand new Xyz Monster based on the Cyber Dragon theme. The deck will also contain two new Effect Monsters, a new Spell card and a new Trap card (for a total of five new cards). The deck will be compatible with all of the 2013 booster releases:
Cosmo Blazer, Lord of Tachyon Galaxy, Judgment of the Light
, and
Shadow Specters
.
The 2014
Star Pack 2
packs carry an SRP of $.99, and contain three randomly distributed cards with one guaranteed Starfoil Card. The cards are taken from a set of 50, which are available as both commons and as Starfoils (including several that have not been released as Starfoils previously). The product is a hobby channel exclusive.