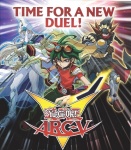 The fifth Yu-Gi-Oh! storyline, Yu-Gi-Oh! ARC-V (pronounced "Arc Five"), will launch in the U.S. with a new release for Konami Digital Entertainment's CCG in August, after Zexal wraps up with May's Primal Origin booster.

At Toy Fair, Konami VP of Card Business Yumi Hoashi told ICv2, "Our August booster will be the first booster based on the new series. We have an all new monster type as well, which comes with the new iteration, called Pendulum Monsters. We'll be releasing more information about them later."

The Gen Con Yu-Gi-Oh! ARC-V TCG release will follow the Japanese release of the set by three to three and one-half months, according to Hoashi. No graphics for the card set are available; the image accompanying this article is tied to the anime, below.

The new ARC-V anime, produced by Nihon Ad Systems and Studio Gallop, is scheduled to begin airing on TV Tokyo on April 6, according to Anime News Network.

The new anime series will introduce fans to Action Duels, where characters and monsters interact for the first time ever. The story follows protagonist Yuya Sakaki, a 14-year-old boy learning to become a professional "Entertainment Duelist." Yuya duels using the Pendulum Summon, which provides access to many high-level monsters.

4K Media announced U.S. distribution at the Kidscreen Summit this month.

For other Yu-Gi-Oh! CCG news, and releases through July, see "Konami Reveals 'YGO' Releases."