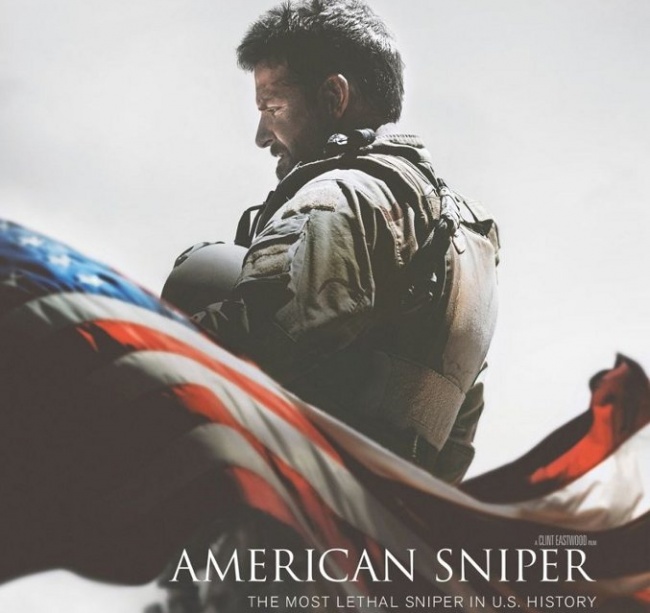 Clint Eastwood's
American Sniper
has become something of a phenomenon on the order of Mel Gibson's R-rated
The Passion of the Christ
, which earned $370.8 million in 2004 (which would amount to well-over $490 million at today's ticket prices), thanks to a second weekend performance that dropped just 28% as Eastwood's film earned an estimated $64.4 million, the highest-grossing non-debut weekend ever for an R-rated movie. Buoyed by
American Sniper's
incredible hold, the box office soared 35% over the same weekend last year when
Ride Along
topped the box office for the second weekend in a row with a total of $21.3 million.
Like Gibson's
The Passion of the Christ
,
American Sniper
has brought out an audience that doesn't normally go to theaters, and like Gibson's film,
American Sniper
is doing land office business in the Midwest, South, Southwest, and Mountain states. Among R-rated movies only
The Passion of the Christ
, which fell just 36% in its second frame, approaches
American Sniper
for second weekend strength. As for all films that opened in the top 100 all time, only
Avatar
(-1.8%),
Star Wars Episode One: The Phantom Menace
(-20%),
The LEGO Movie
(down 28%), and
The Incredibles
(-28%) could match or better
American Sniper's
second weekend hold.
With a current total of $200.1 million it now appears that
American Sniper
will surpass
The Hunger Games: Mockingjay, Part 1
($334.3 million), which just surpassed
Guardians of the Galaxy
($333.2 million) as the 2014's highest-grossing film in the domestic market.
American Sniper
opened in limited release in 2014, so it will always be considered a 2014 film, even though it will have earned the vast majority of its total in 2015.
American Sniper
, which is already Eastwood's highest-grossing directorial effort, as well as the best performing film in star Bradley Cooper's career, will almost certainly end up with the highest total ever for an R-rated movie in the domestic market, though the film's international prospects are very uncertain given the film's subject matter, so matching
The Matrix Reloaded's
$734 million leading worldwide total for an R-rated movie appears problematic.
Once again
American Sniper
sucked most of the oxygen out of the room, but the Jennifer Lopez-starring drama
The Boy Next Door
, which cost just $4 million to make, posted a solid $15 million opening, which was good enough for second place
. The Boy Next Door
attracted an audience that was overwhelmingly female (67%), somewhat older (60% over 25, and 51% over 30), and quite diverse (45% Hispanic, 33% Caucasian, 10% African American, and 5% Asian). The movie earned an OK "B+" CinemaScore, which means that it should have some "legs."
Paddington
, which debuted here last week (after already earning $127 million overseas), took the lion's share of the family audience, as it fell just 35% in its second frame as it earned $12.4 million, pushing its domestic total to $40.1 million.
Paddington
clearly bested the Disney/Lucasfilm animated film,
Strange Magic
, which is set in a world inspired by Shakespeare's
A Midsummer Night's Dream
. Panned by the critics (it has a rating of just 11% positive on review aggregator Rotten Tomatoes),
Strange Magic
earned just $5.5 million, and finished back in seventh place.
Strange Magic
was developed by Lucasfilm before the company was purchased by Disney, and it is clear that the Mouse House will lose money on the film, but don't worry, there is a little film dropping from Disney and Lucasfilm in December that should make up for the loss and quite a bit more.
Weekend Box Office (Studio Estimates): January 23-25, 2015

Film

Weekend Gross

Screens

Avg./

Screen

Total Gross

Wk#

1

American Sniper

$64,365,000

3,705

$17,372

$200,137,000

5

2

The Boy Next Door

$15,001,000

2,602

$5,765

$15,001,000

1

3

Paddington

$12,391,000

3,355

$3,693

$40,062,000

2

4

The Wedding Ringer

$11,600,000

3,003

$3,863

$39,677,000

2

5

Taken 3

$7,600,000

2,909

$2,613

$76,051,000

3

6

The Imitation Game

$7,136,000

2,025

$3,524

$60,642,000

9

7

Strange Magic

$5,534,000

3,020

$1,832

$5,534,000

1

8

Selma

$5,500,000

2,046

$2,688

$39,220,000

5

9

Mortdecai

$4,125,000

2,648

$1,558

$4,125,000

1

10

Into the Woods

$3,886,000

2,270

$1,712

$121,494,000

5

The Kevin Hart-starring comedy The Wedding Ringer dropped just 44% as it slipped to fourth place, earning $11.6 million and bringing its domestic total to $39.7 million. Given its $23 million budget, it appears that The Wedding Ringer will end up making some money for Sony, though The Wedding Ringer's performance is almost certain to pale, when compared with Get Hard, which teams Hart with Will Ferrell and is set to open in late March.

Fifth place went to Taken 3, which has wilted under direct competition with American Sniper, but since the film has already earned $76 million, the $48 million production will still end up making plenty of money for Europacorp. The civil rights drama Selma, which landed in eighth place, also posted a pretty good hold, dropping just 37% as it earned $5.5 million.

Boosted by its award nominations, the Alan Turing biopic The Imitation Game added theaters and actually gained 5% over the past weekend as it added $7.1 million, bringing its domestic total to $60.6 million. The Imitation Game has now surpassed the total of The Grand Budapest Hotel, making it the second highest-grossing "Best Picture" nominee, trailing only Eastwood's American Sniper.

This week's big bomb is the Johnny Depp-starring comedy/adventure Mordecai, a $60 million production that earned just $4.1 million thanks to a dismal $1,558 per venue average for the weekend. This is Depp's lowest-grossing debut since The Astronaut's Wife, which earned just $4 million in 1999 (of course that total would be much bigger if it were adjusted for ticket price inflation). Given Mordecai's lousy "C-" CinemaScore, analysts are already branding the film a "bomb" in the domestic market. It doesn't appear that Mordecai will be able to make up for its poor U.S. showing with a strong performance overseas where Depp is very popular. Mordecai earned just $5.2 million from 33 overseas territories.

Given that both Transcendence and The Lone Ranger were big-budget flops, does that mean that Johnny Depp is no longer a box office draw? Not exactly, since it is only in the Pirates of the Caribbean movies (and perhaps in the right Tim Burton vehicle like Alice in Wonderland) that Depp has really delivered at the box office, and the actor is clearly attracted to taking chances on quirky roles in films that don't have a chance at major box office success.

Tenth place went to a film in which Depp has a small role, the musical Into the Woods, which earned $3.8 million and brought its domestic total to $121.5 million, a surprisingly good showing for a film from a genre that has not found a lot of success at the box office in recent years.

Dropping out of the top ten for the first time in its sixth week of release was Peter Jackson's Hobbit finale, The Battle of the Five Armies, which earned $2.8 million bringing its domestic total to $250 million. Worldwide the film has now brought in $809 million making it a solid success for Warner Bros., if not the billion dollar behemoth of the studio's dreams.

Check back here next weekend when American Sniper will likely vanquish a trio of modestly ambitious films including the Octavia Spencer/Kevin Costner racial drama Black and White, the found-footage time travel thriller Project Almanac, and the R-rated Karl Urban/James Marsden thriller The Loft.

--Tom Flinn