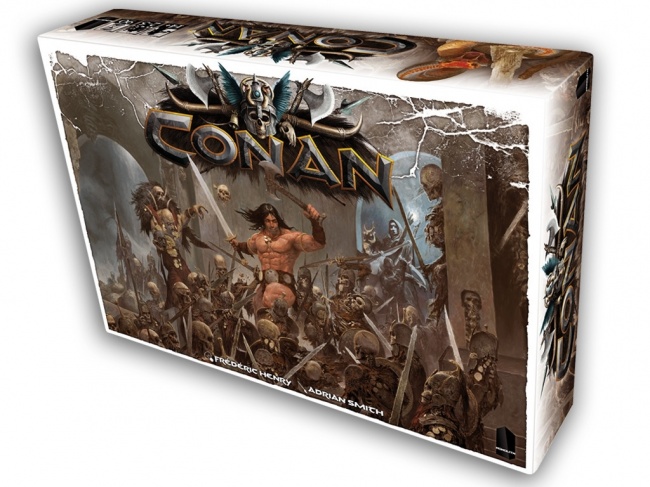 Monolith Board Games, LLC has confirmed that the massively popular miniatures-based
Conan
board game, which has raised over $2.5 million on Kickstarter, will be released to trade in North America in Q4.
"Monolith plans indeed to release the game at the end of the year," Monolith's Leonidas Vesperini told ICv2 via email. "Asmodee will distribute it, we hope to release it in November."
"The retail version will be much smaller than the Kickstarter version, though," he continued. "The retail version will just have the 'basic' content from the Core Box, without the exclusive content or the stretch goals. MSRP should be around $90-100."
The massive international Kickstarter has raised $2,528, 470 from 13,108 backers ($192.92/backer average) as of this writing, with 22 hours remaining. This puts it ahead of
Zombicide: Season 3
on the ICv2's Top 10 Tabletop Game Kickstarters chart (see "
Top 10 Tabletop Game Kickstarters
"). In addition to the base game, the Kickstarter campaign offers add-ons including exclusive minis, three expansions (
Nordheim, Stygian, Khitai
) with additional game boards and minis, and a campaign/art book with new scenarios.
The game is inspired by the writing of Robert E. Howard and licensed from Conan Properties. The game is designed by Frederic Henry (
Timeline, The Builders
) with consultation from Conan scholar Patrice Louinet. The game pits one player as the villainous overlord who controls the hordes of enemies against 1 - 4 other players in the roles of Conan and his fellow heroes. The double-sided game board offers eight different scenarios, and each scenario plays in about an hour.
The core box contains 74 (32mm) plastic models, the
Book of Skelos
(overlord dashboard), 25 colored base sleeves, 9 engraved, six sided dice (3 Yellow, 3 Orange, 3 Red), 60 energy gems, 4 Hero character sheets, a turn counter sheet, 43 Creature tiles, 55 spell and equipment cards, 2 double sided game boards (4 maps), over 80 tokens (doors, chests, villagers, effects...) and a rule book (8 scenarios).
Modiphius Entertainment announced a new
Conan
RPG
this week, and included plans to collaborate with Monolith for future supplements tied to the board game (see "
New 'Conan' RPG
").