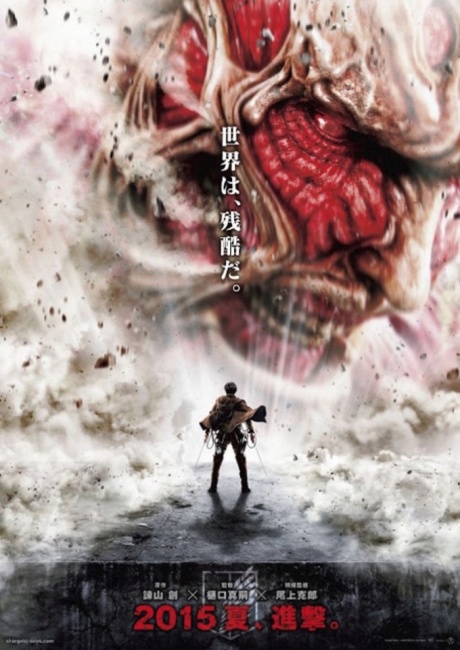 Here's a first look at footage from the first of two live-action movies that will adapt Hajime Isayama's hit manga series,
Attack on Titan
. The first live-action
Attack on Titan
film, which is directed by Shinji Higuchi, is due for release in Japan this summer. With Sony acquiring domain names related to
Attack on Titan
, don't be surprised if there is a Hollywood adaptation of
Attack on Titan
as well.
The big reveal of the first AoT trailer is the way in which the filmmakers have handled the gigantic Titans via a combination of CGI and physical means.
Attack on Titan is the most popular manga series in U.S. according to ICv2's most recent ranking of manga properties (see "Top Ten Manga Franchises Fall/Holidays 2014"), and the post-apocalyptic saga was even bigger in Japan where it sold 16.2 million Attack on Titan volumes in 2013 alone (see "Attack on Titan Closing in on One Piece"). In addition Bushiroad has announced an Attack on Titan expansion for its Weiss Schwarz TCG (see "Weiss Schwarz Attack on Titan"), and Marvel is reprinting the Attack on Titan/Marvel crossover in one of its Free Comic Book Day offerings this summer.
The first poster for the Attack on Titan movie was released in December (see "Live Action Attack on Titan Poster").