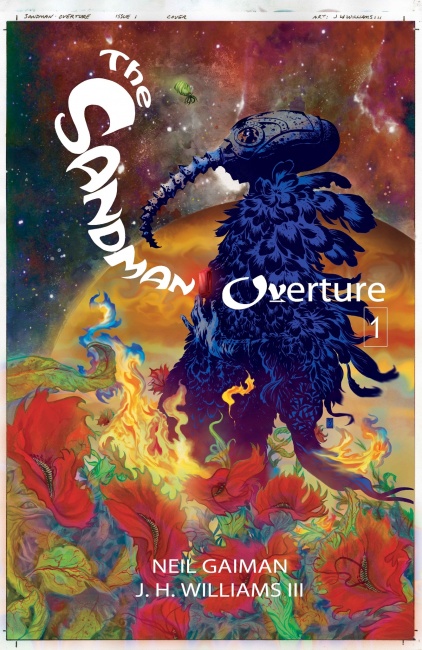 Vertigo has announced two hardcover graphic novels featuring stories by bestselling writer Neil Gaiman for fall release. The first optimistically plans to collect
Sandman Overture
into a deluxe hardcover for release in November.
Sandman: Overture is a six issue comic miniseries by Gaiman and J.H. Williams III (with covers by Dave McKean) that launched with a first issue on October 30, 2013 (see "Vertigo Schedules Gaiman 'Sandman'"). It was announced as having a bimonthly frequency, but the delays started with the second issue, which was delayed. Three issues were released in 2014, and the two final issues are promised for 2015.
The Sandman: Overture Deluxe Edition will street on November 11 in comic stores and on November 17 in the book channl, at $24.99 MSRP.
In addition to the comic story from the six issue miniseries, the hardcover volume will include the gatefold from the first comic issue and material from the Special Editions, including script pages, among others.
DC was running a TV campaign behind the miniseries, and planned to resume the support for the graphic novel release.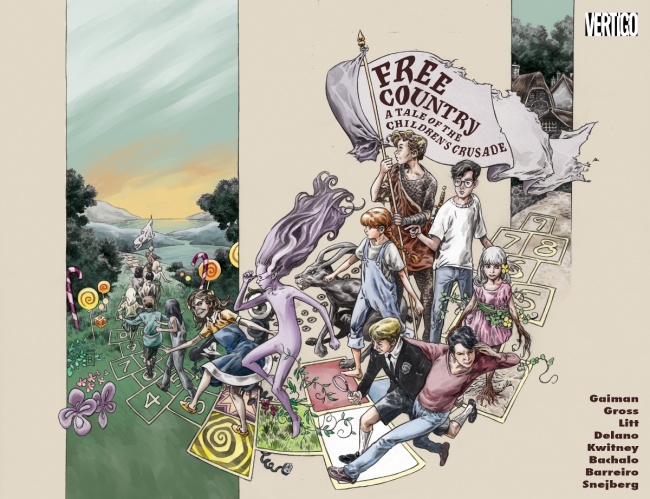 The second Vertigo Gaiman hardcover for Fall is
Free Country: A Tale of the Children's Crusade,
released as a two-issue comic miniseries in 1997 and unavailable since then. Now the story will be completed with a new chapter, written by Toby Litt (
Dead Boy Detectives
) and Drawn by Peter Gross (
Books of Magic
), as Gaiman envisioned.
The result will be a 200-page, $24.99 hardcover with new cover art by Mark Buckingham (Dead Boy Detectives). It will be released September 23 in comic stores, September 29 in the book channel.
The story follows the Dead Boy Detectives as they search for missing children in Free Country, where children never grow old. Gaiman described his relationship to the project. "A long time ago, I wrote the first part of a story, and waited to find out how it middled, then worked with Jamie Delano and Alisa Kwitney on the end," he said. "For years people have asked how and when they could read all the story of the Children's Crusade. I'm glad to say that it's now been retooled and refinished, and is something both old and new — a forgotten jewel and a new delight."