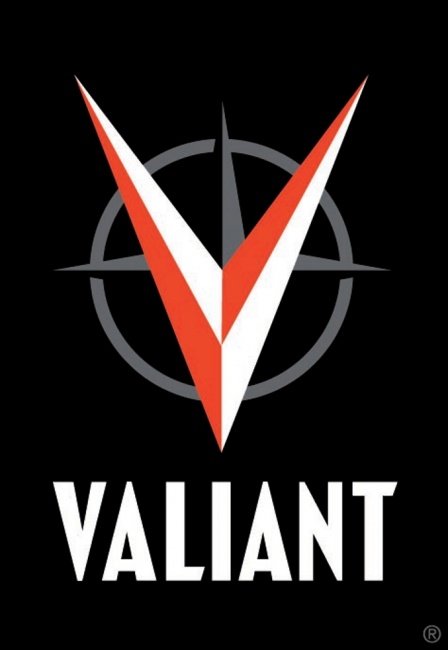 In conjunction with Valiant Entertainment's recent announcement of Gavin Cuneo's promotion from CFO and Head of Strategic Development to COO (see "Gavin Cuneo Named COO at Valiant"), ICv2 spoke with Valiant CEO & Chief Creative Officer Dinesh Shamdasani and Cuneo about Cuneo's new role, the company's plans for the future, and new financing from DMG Entertainment.
Gavin, how do you expect your role to change in the company?
Gavin Cuneo
: It will change a little bit, but it's really consistent with what I've been doing in the past few years. My father and I invested in the business in 2011. We were the Series A round investors and saw a huge opportunity here, and I've been very active from that time on. My role has been CFO, and more broadly, working with publishing, licensing, and films, so really touching all areas and also fundraising and capital-raising. We've raised two rounds of capital since our initial investments. It's been a broad role since then and this is memorializing the position.
Are you going to continue handling the CFO duties or are you bringing in someone new for that?
Cuneo:
No, I'm going to continue to do that.
So this is broadening your portfolio in a formal way.
Cuneo:
Yes, formalizing the broader duties.
We're interested in the new investment announcement
(see "
Valiant Gets Major Investment
"
).
Is this the first time DMG Entertainment has taken equity in IP in association with investments?
Cuneo:
We can't really speak to what they've done in their business otherwise, but that's what they've done here, yes.
Can you discuss strategy and your interest in China and the fast-growing film market there? How will Valiant approach the Chinese market and make its characters well known there?
Cuneo:
We've raised capital into the core company to help us grow all areas of our business. It's about publishing, licensing and film. In addition to that, we have a film fund earmarked for investing directly into our films, which is going to enable us to bring them to the market rapidly and help us to have key partners across each film, and also distribute them on a global basis. We're building comic book superhero franchises in film. The North American market is very important too as well as the China market. Those are two key markets for us and will be going forward, but these are global films.
We saw that you've done a digital comics giveaway in China?
Cuneo:
When we made our announcement we did a comic book promotion with a company called Tencent in China, which is one of the largest mobile gaming and internet companies. They also have a very large comics community. We've featured
Bloodshot
#1 and
Harbinger
#1 on Tencent and it was very successful for us. We're starting to build awareness for our characters in that market as well.
On the film development side, is Bloodshot the closest to going into production
(see "
Here Comes the 'Bloodshot' Movie
"
)
?
Dinesh Shamdasani
: Yes, we have a number of projects. We love to tease and keep things close to our vest, but
Bloodshot
is the closest and we anticipate that will go into production shortly.
Do you have any idea on the budget?
Shamdasani:
We do not have a confirmed budget yet. It's all in process until the green light is given, but it will be comparable to the early Marvel Studios films, so in the range of about $100 million.
That's reassuring in terms of whether the film will be a major tent-pole type of feature.
Shamdasani:
It's going to be the same thing that we did in publishing as we will do in films, which is we're going to take our time and develop quality material and then when we come out we're going to attempt to challenge the biggest players in the business with material that's as good as anything out there. In order to do that, you need the right kind of budget, so it certainly will be tent pole films.
Cuneo:
And there's a studio involved as well.
Shamdasani:
And it's a major studio.
Bloodshot
's with Sony. They're a major studio—global presence, global distribution, global marketing. It's going to be a big deal.
It seems like a challenge establishing a #3 universe when there's so much superhero activity in media. How do you distinguish yourselves and get people who may not be familiar with your characters to try them the first time
?
Shamdasani:
Gavin can give you some details on that. I will say the benefit we had is that it was already established as the #3 share universe in comics and we were just picking up the mantle and running with it.
Cuneo:
Yes, Dinesh alluded to it earlier with how we approach things on the comic book side which has always been hiring the top creative talents, building the best books, the best stories, and really putting our best foot forward and building these characters and this brand. And that's exactly what we're going to be doing on the film side. A lot of the themes that you see on the comics side are what you're going to see on the film side as well, in terms of best partners, working with the best studios and bringing all the elements together that are going to build these into global franchises. As Dinesh said, we do have a global brand in the comics community already and this is really just going to extend that into the mainstream public.
You've talked about three different film projects: Archer & Armstrong
(see "
'Archer & Armstrong' Movie
"
),
Shadowman
(see "
JMS to Adapt Valiant's 'Shadowman'
")
, and Harbringer
(see "
ICv2 Interview: Valiant Execs, Part 3
"
),
there's obviously a lot going on with superheroes on television right now. Anything you can talk about there?
Shamdasani:
There are many things that we want to, but we can't really at this point. We're being very coy about it because with everything we do we try to line it up and get it as far down the line as we can before we go public with it. But we are working feverishly behind the scenes on television.
We read that 2016 is the production timing for Bloodshot. Is that right?
Shamdasani:
Not from us. You might be thinking of the leaked e-mails from Sony. I believe they mentioned a date. We neither confirm nor deny that.
You've talked about one of the three legs: the film and television side. What's going to happen to publishing as you get your products out there on the media side? Is that going to scale up dramatically or grow incrementally as you have so far?
Cuneo:
I think it's going to be incremental. We're all about the quality of the product and putting the best product out there. We won't ever sacrifice that to grow too quickly, but we foresee there will be increased demand on our publishing products so that business is going to grow in line as we start launching these other legs of the stool. We're not going to sacrifice quality to do that.
In the past your licensing strategy has been to try a few things but really wait for media exposure before rolling that out in a more broad way. Can you talk about your licensing strategy?
Cuneo:
Russ Brown [President, Consumer Products, Promotions & Ad Sales] has a long tenure in licensing, including running licensing for Marvel for a number of years. He's been with us for three years now and we already have over 50 licensing partners on the classics side so we've been able to establish a great foundation on the licensing side. And several good films will bring more licensing opportunities for sure. Russ has been hard at work for the last several years and has built a really great foundation for us already.
Anything else that our readers should know about?
Shamdasani:
It's really been interesting for us to see the shift over the last year in what we're doing and the way that we've been received. This last film fund announcement has really crystallized it for us internally in the sense that there's a lot of momentum and we really do feel like the opportunity before us is a great one and one we're up to the challenge of. I think you're going to see some really, really interesting things from us.
There's so much that you were asking Gavin just now, that I could hear him wanting to tell you a lot more, but we can't just yet. We'd love to talk about
X-0 Manowar
, the movie. We have huge things going on there, but we can't release it yet. And some of the licenses.
And in publishing we continue to be about 10 to 15% ahead of where we wanted to be at this point. The numbers for the last month just came in and every single one of the numbers was higher than projections. We keep upping our projections now and we keep beating them, which is really nice.

I
think the world is taking notice because of this film fund, and to us it's a natural progression of what we're doing. You'll be seeing a lot more things like that that will surprise people coming up.
With DMG and the film fund, Gavin was the most instrumental piece of that on our side in putting that together. We could not have done it without him. And I think the team that we have is really going to be doing great things.