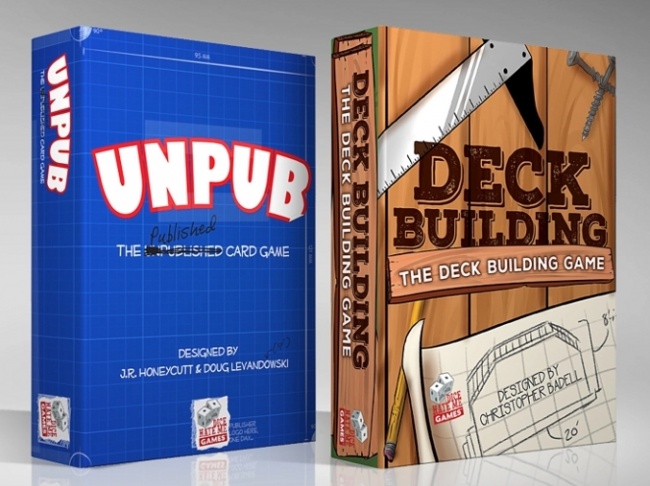 With tongue in cheek, Dice Hate Me Games launched a successful Kickstarter campaign to publish two pocket-size card games for its "Rabbit" line:
Deck Building: The Deck Building Game
and
Unpub: The Unpublished Card Game.
The Kickstarter campaign to fund the two projects attracted nearly $19,000 from over 800 backers in only three days, begiing on April 1, easily surpassing the very modest goal of $4,115.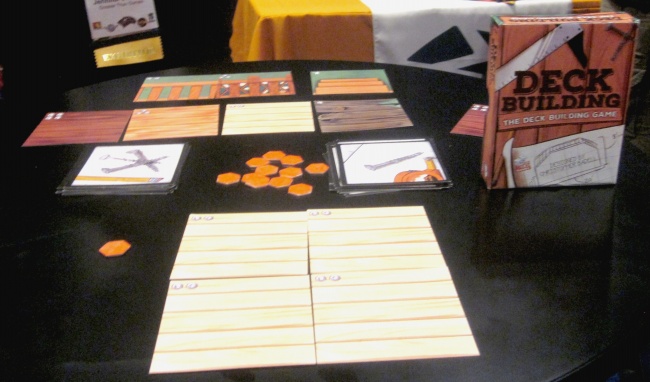 Deck Building: The Deck Building Game
is a card game about building wooden decks, designed by Christopher Badell (
Sentinels of the Multiverse, Galactic Strike Force
). The game uses square cards representing different types of wood that can be included in a deck. The cards are used much like tiles in a tile placement game, with different scoring based on the quality and consistency of materials.

T
he game is for two players, but two copies can be combined to allow up to four players. MSRP is $10.00.
Unpub: The Unpublished Card Game
was created to honor the Unpub organization, which assists unpublished game designers with their product development. Using cards that feature typical game design elements, players act as would-be game designers trying to convince a publisher to pick up their projects.
Designed by J.R. Honeycutt and Doug Levandowski, the party game is for three to eight players. MSRP is $10.00.
Both new games will be sent to Kickstarter backers in October. Dice Hate Me plans to release them into the trade later, but a timeline has not yet been set.
Dice Hate Me Games recently merged with Greater Than Games (see "
Greater Than Games and Dice Hate Me Merge
"
).