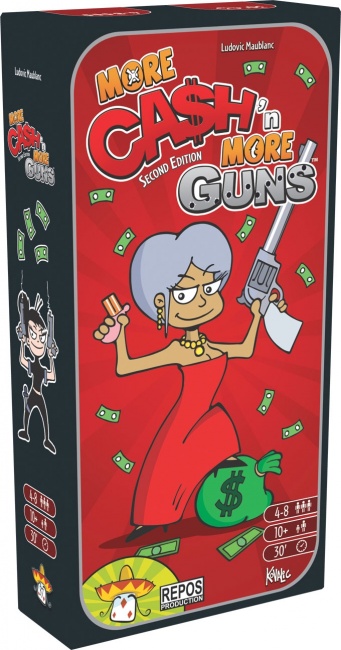 Asmodee and its partner Repos Productions are producing an expansion for their Cash 'n Guns bluffing game: More Cash 'n More Guns. The new expansion is scheduled to debut at Gen Con later this month.

(Click either image for larger view.)

More Cash 'n More Guns adds a number of elements to the basic game, which features bank robbers double-crossing each other as they divide the loot from their latest heist, with new guns, new special powers, and new loot for players to compete for. Included in the box are four new foam guns, 16 new loot cards, 16 Surprise cards, 3 Power cards, a safe tile, and expansion rules.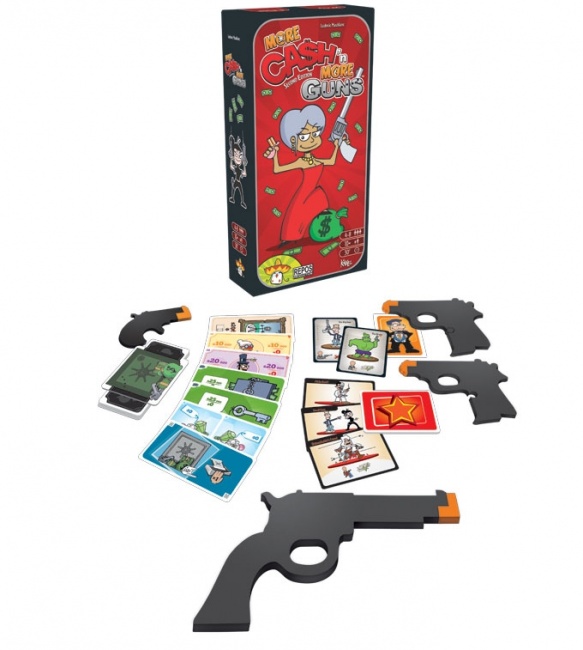 As an expansion, a copy of
Cash 'n Guns 2nd Edition
is required. The expansion supports 4 - 8 players, ages 10 and up. MSRP is $29.99.
Asmodee and Repos relaunched Cash 'n Guns in 2014, replacing the original artwork with illustrations by fan-favorite John Kovalic (see "Asmodee Revamps Two Titles").The upgraded version earned a nomination for the Origins Awards (see "Origins Awards Nominees Announced."). Asmodee will be releasing an organized play kit for the game as part of its "AsmOPlay" program in September (see "Asmodee's New Organized Play Program").