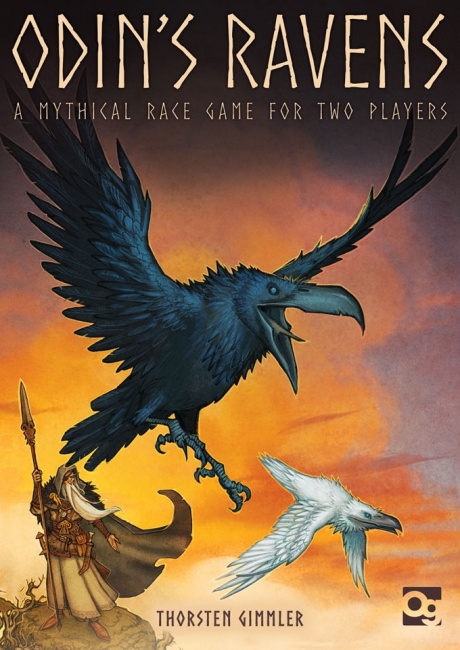 Rising phoenix-like from the ashes of a failed Kickstarter, the second edition of
Odin's Ravens
will finally see life thanks to the efforts of Osprey Games. The new edition of Thorsten Gimmler's (
Cape Horn
,
Gangster
) award-winning game is scheduled to release in February 2016.
The game enjoyed some popularity when it first released, but has been out of print for several years. In 2013, a Kickstarter campaign to produce a second edition collected over $22,000 in pledged support, easily surpassing its $15,000 goal, but the game was never produced.
As a show of support for those who backed the Kickstarter campaign, Osprey is offering to provide free copies of their version of the game to those backers, despite the fact that Osprey was not involved in the original Kickstarter campaign in any way. "We knew that we wanted to do the right thing by those backers, and I am very pleased to be able to say that we are going to be offering a free copy of the game to anyone who backed the Kickstarter," Osprey Games Manager Philip Smith said of the offer.
Originally released by Kosmos in 2002, Odin's Ravens is a two-player card game that depicts a race between Hugin and Munin, the two raven companions of the Norse god Odin. In the game, each player uses their own deck of cards to race their raven across a landscape that is itself made up of cards, while using a variety of "Odin Cards" to thwart the efforts of the other player or alter the landscape of the game.
The new Osprey edition of the game is going to feature all new artwork by Swedish fantasy artist Johan Egerkrans. MSRP is $24.
This is a rescue similar to the one carried out by Cryptozoic for The Doom That Came to Atlantic City, another failed Kickstarter that a publishing company took over and fulfilled to backers (see "Cryptozoic Saves 'Doom'"). That game went to Renegade when Cryptozoic co-founder Scott Gaeta split off last year (see "Crypto Vet Forms Renegade Games").