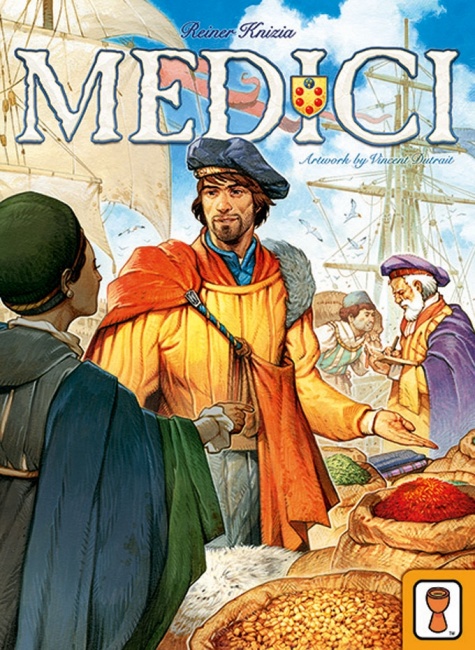 Australian game publisher Grail Games has acquired the rights to produce a new English language edition of Reiner Knizia's Medici board game, with release planned for Q2 2016.

Originally published in 1995, Medici casts players in the role of merchants during the height of that family's power. Each round, players bid for lots of goods in auction, load their goods on ships, and earn money for their efforts. The twist being that the monies bid for goods are the victory points needed to win the game.

Medici was a critical and popular success, earning a place on the Spiel des Jahres "recommended" list of games for 1995, and remained in print for a decade. The Grail Games version will feature new artwork by Vincent Dutrait (Elysium, Broom Service) and an updated rulebook that includes additional rules for playing Medici with two players.

The game will include 36 game cards, 36 scoring tokens, 8 ship mats, a board, and tokens. Medici is for 2 - 6 players, ages 10 and up, and plays in about an hour. MSRP has not yet been announced.

"It is one of my favorite games and I am glad to see it back,"Knizia said in the announcement. "The new artwork and expanded rules will do nothing but add to the gaming experience Medici provides."

Grail Games has an arrangement for U.S. Distribution through Impressions.