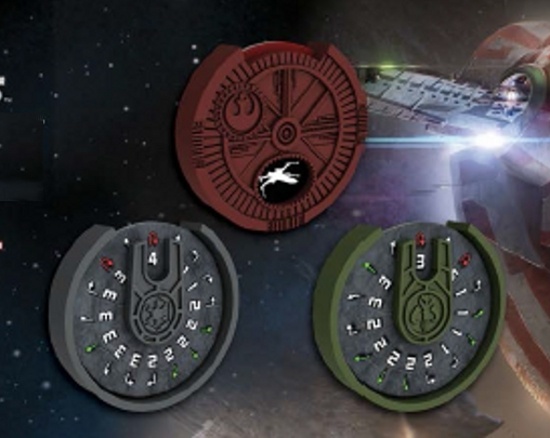 Fantasy Flight Games will release three new
Maneuver Dial Upgrade Kits
for its
Star Wars: X-Wing Miniatures Game
in January.
Each kit will include three plastic protectors to house ships' maneuver dials. They also include dial ID tokens with ship icons to easily identify which dial match which ship. The dial packs come with colors and symbols for one of the three X-Wing factions: Rebel Alliance, Galactic Empire, or Scum and Villainy. The ID tokens included in the packs work for all ships released up to the recent The Force Awakens Core Set. Fantasy Flight also stated the dials are fully tournament legal.
Each of the three Maneuver Dial Upgrade Kits: Rebel, Imperial, and Scum has a MSRP of $9.95.
These accessories will follow the Q4 release of the colored bases and pegs upgrades for X-Wing in Q4 (see "Six Colored Base Sets For 'X-Wing'").