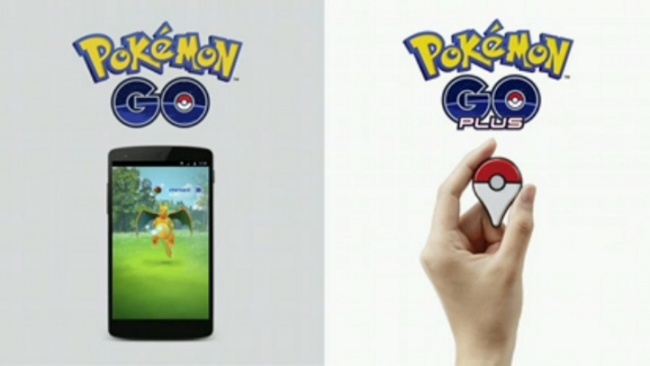 The Pokemon brand is moving into the real world, with three initiatives announced in the last few weeks. Perhaps the most significant is
Pokemon GO
, a new mobile game set for launch in 2016 for iOS and Android. The game allows players to interact with other players and their surroundings in a real world setting, finding Pokemon, catching them with Poke Balls, and using them to battle each other, all in their surroundings, as in the video displayed here.
There's also an optional device, Pokemon GO Plus (which can be paired with a phone using Bluetooth), that uses vibration and lights to indicate when something is happening in the game. This allows the player to focus on the real world until the device indicates that gameplay is happening. It can also be used to accomplish simple game actions.
Pokemon GO is being developed by Niantic Labs, a Google startup that's recently spun off. It developed a mobile game called Ingress that could also be played in the real world. Pokemon GO uses features developed for Ingress; Niantic is working with the Pokemon Company and Nintendo to develop the new game.
Pokemon GO is similar in some ways to Playmation, the new active game with digital elements from Disney and Hasbro using Marvel characters (see "Disney Kicks Off Playmation with 'Avengers'").
And there's another way to get active in a Pokemon world: Sanoyas Interaction is opening a Pokemon Gym in Osaka, Japan in November, according to
Tokyopop
. Individual attractions will include Charizard's Battle Colosseum, Smeargle's Promo Studio, Machamp's Aid Center, and Zoroark's Bad Boy Dojo.
The Pokemon Company also announced that it will partner with Build-a-Bear Workshop for an exclusive stuffed Pikachu in early 2016. Pikachu can also be paired with a Poke Ball hoodie. A Build-a-Bear-branded Pokemon TCG card will also be given to purchasers of the Pikachu.