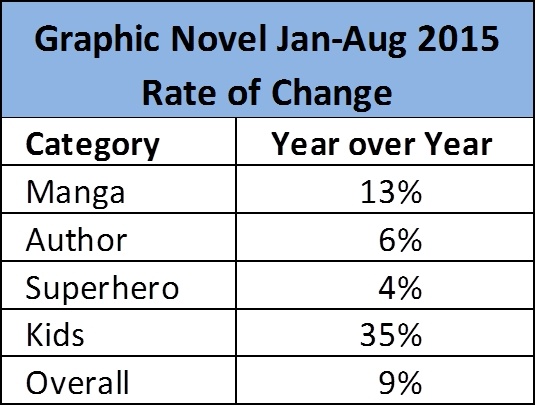 Kids titles are the fastest-growing graphic novel category, according to a study conducted by ICv2 of sales on a large sample of graphic novel titles from both the comic store and book channels (see "
ICv2 Presents White Paper at New York Comic Con Event
"). Sales on kids graphic novel titles across channels in the first eight months of 2015 were up 35% over the previous year. The year over year increases undoubtedly slowed somewhat in the Fall season behind tougher comparables (
Sisters
, the latest Raina Telgemeier title, launched in August of 2014), but it's still been a great year and a half for the Kids category of graphic novels.
The rate of growth for kids titles was far ahead of the second fastest growing category; manga grew at a 13% rate, and author and superhero titles were growing at single digit rates.
And although the venerable Peanuts property was the #1 Kids graphic novel franchise for Fall, Telgemeier franchises were still two of the top three, and three of the top six (see "
Top 10 Kids GN Franchises
"), driving much of the growth in the category.
In addition to the rapidly increasing popularity of Telgemeier's works, other reasons for the growth of the category include the increased variety of titles and improved merchandising, with more slots in a greater variety of retailers.
And with a surge of young readers, there are better prospects for continued growth, as this new young cohort ages and works its way through other graphic novel categories.
ICv2 is conducting a special editorial event on kids graphic novels over the next two weeks (see "
ICv2 Launches 'Grow the Market with Kids'
").