This week's home entertainment offerings include the first of 2016's billion dollar movies to come out on disc, a biting Hollywood satire that deserves a better fate than it enjoyed at the box office, another savage and surreal example of grandparenting gone bad in Rick & Morty: The Complete Season 2, the first collection of MTV's fantasy series The Shannara Chronicles, a high-def edition of the original Roots miniseries, and a superb slate of anime releases including two great feature films by the underrated Mamoru Hosoda.
Theatrical Movies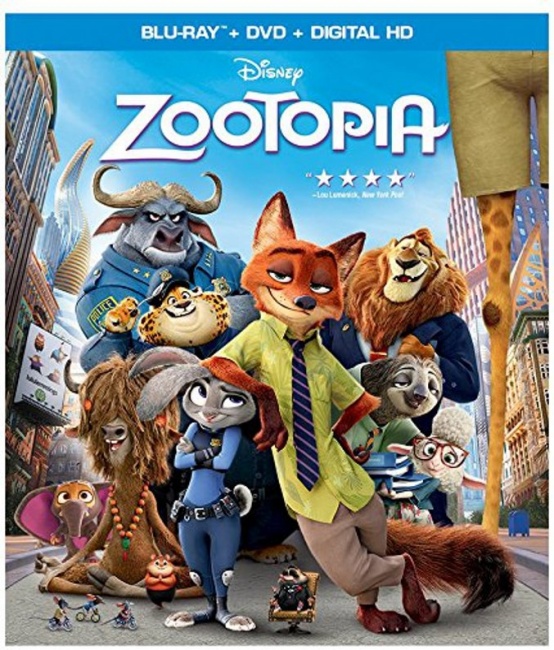 This week's top release is Disney's
Zootopia
(Disney, "PG," 108 min., BD/DVD Combo $39.99), an anthropomorphic animated adventure set in the modern mammal metropolis of Zootopia. This original saga has earned over a billion dollars at the worldwide box office, and has a sterling 98% positive rating on review aggregator Rotten Tomatoes. Of all Disney's hugely successful modern acquisitions, the purchase of Pixar may be the best, not just for the continuing excellence of Pixar's films, but also for the salutary effect that John Lassiter and the Pixar brain trust have had in helping Disney revive its own animation unit, which has produced hits like
Frozen,
and now the even better
Zootopia
.
Unlike Zootopia, which earned $338 million at the domestic box office, the Coen Brothers' Hail Caesar (Universal, "PG-13," 213 min., $29.98, BD Combo $39.98), a Hollywood satire with a great cast that is perhaps a bit too long, but should find an audience on DVD that eluded it in theaters. With a critical rating of 85% positive, Hail Caesar should be able to overcome its clunky title and get some of the recognition it deserves.
The other major release this week is 13 Hours: The Secret Soldiers of Bengazi (Paramount, "R," 144 min., $29.99, BD $39.99), which dramatizes a terrorist attack that has become a political bone of contention. Fortunately director Michael Bay is more interested in pumping up the action than scoring political points in this action-packed account of a terrorist attack that killed the U.S. ambassador to Libya. The Benghazi attack has become a ridiculous political farce here in the States with Republicans in Congress holding endless hearings trying to blame Secretary of State (and potential 2016 Democratic Presidential candidate) Hillary Clinton for the affair (when of course Congress has been delinquent for years in providing funds for the protection of U.S. diplomatic outposts). But right wingers will find little to bolster their case in Bay's film, which is more interested in explosions than talking points.
TV on DVD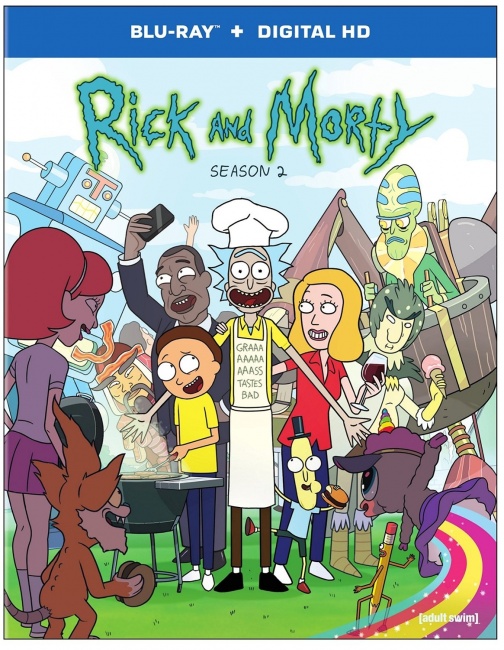 This week's top geek release is
Rick and Morty: The Complete 2nd Season
(Warner Bros., 220 min., $24.98, BD $29.98), the adult animated science fiction sitcom created by Dan Harmon and Justin Riland for Adult Swim. How good is Rick and Morty—it currently has a 100% approval rating on Rotten Tomatoes! This series may be too coarse and scattershot for those with delicate sensibilities, but then that's why the rest of us like it so much.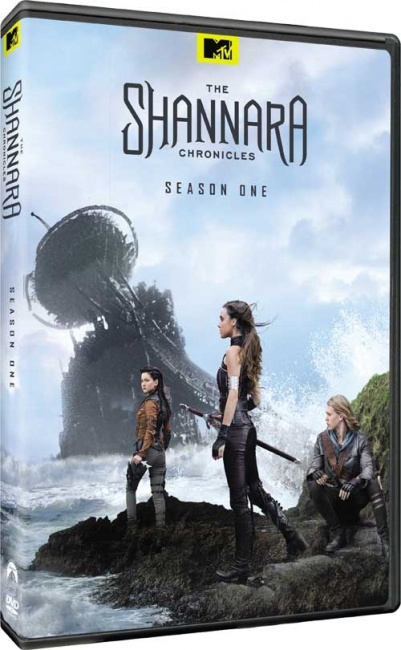 Also of interest are
The Shannara Chronicles: Season 1
(Paramount, 420 min., $29.98), which collects all ten first season episodes of the MTV fantasy series created by Alfred Gough and Miles Millar (
Smallville
) and based on the fantasy novels of Terry Brooks, especially
The Sword of Shannara Triolgy
; the single-disc collection of the excellent Cartoon Network series
Stephen Universe: Vol. 2—The Return
(Warner Bros., $14.98); and for hipsters,
Vinyl: The Complete First Season
(HBO, 420 min., $49.98, BD $59.98), which collects the slice-of-life cable series set in during the Golden Age of the record business.
Other contemporary series include the Boston-set police procedural Rizzoli & Isles: Season Six (Warner Bros., 792 min., $39.99), the zany Comedy Central series, The Kroll Show: Season 3 (Comedy Central, 231 min., $26.99), and the single-disc animated offering, My Little Pony: Friendship Is Magic, Friends and Family (Shout Factory, 110 min., $14.98).
There aren't many vintage TV releases, but there are some choice ones, especially Roots: The Complete Original Series—40th Anniversary Edition (Warner Bros., BD $44.98), which presents the powerful original Roots series in clear high definition. It is hard to imagine a better indictment of slavery in America, with the historically accurate narrative of the miniseries rendering ridiculous the myth of happy slaves that stains so many films from Hollywood's Golden Age.
Also of interest is the science fiction series Quantum Leap, the first two seasons of which are available in reasonably-priced editions. Quantum Leap: Season One (Mill Creek, $9.98) and Quantum Leap: Season 2 (Mill Creek, $14.98) provide lots of entertainment for a very small price.
Anime
There are lots of interesting anime releases this week including three great anime films. Psycho-Pass: The Movie (Funimation, 113 min., $29.98, BD/DVD Combo $34.98) contains the 2015 anime feature from Production I.G. that covers a terrorist attack on Japan that takes place four years after the events in the cyberpunk-sci fi 2012 Psycho-Pass TV anime.
The other two movies that Funimation is releasing are Tuesday were both directed by Mamoru Hosoda. Hosoda's 2006 film The Girl Who Leapt Through Time (Funimation, 98 min., BD/DVD Combo $34.98, Ltd. Ed $49.98) is loosely based on a 1967 time-travelling science fiction novel by Yasutaka Tsutsui. Bandai released the film here on DVD in 2008, and it managed a strong 87% critical rating on Rotten Tomatoes. The Girl Who Leapt Through Time is a true anime classic that captures the heat and haze of summer with poetic visuals (and clouds worthy of the Studio Ghibli films with which it is always compared).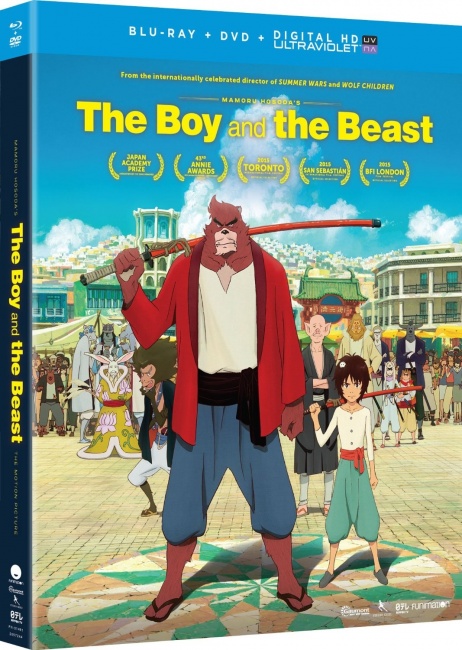 The Girl Who Leapt Through Time
won Japan's top animation prize in 2006 and Hosoda's
The Boy and the Beast
(Funimation, 120 min., $29.98, BD/DVD Combo $34.98), which was released in 2015, took home last year's Japan Academy Prize in Animation as well.
The Boy and the Beast
is a fantasy saga with more of a boys' adventure appeal than the typical Ghibli film, but there are plenty of stunning visuals, and
The Boy and the Beast
, which received a limited theatrical release here in the States managed to earn a very respectable 86% positive rating on Rotten Tomatoes.
Other anime movies include the Lupin the Third: The Alcatraz Connection (Discotek Media, Subtitles Only, $24.98), which contains the 13th Lupin TV special that aired in Japan in 2001; Wake Up, Girls: The Movie (Sentai Filmworks, 53 min., Subtitles Only, $19.98, BD $29.98), a 2014 slice-of-life drama from Tatsunoko Productions about a failing production company that uses its last resources to produce an idol group; and Berserk: The Golden Age Arc Movie Collection (Viz Media, 288 min., $29.98, BD $39.98), which collects the three anime movies that adapt the Golden Age Arc of Kentaro Miura's bloody dark fantasy manga Berserk.
There are also some interesting TV anime releases including Yona of the Dawn (Funimation, 300 min., BD/DVD Combo $64.98), which collects the first half of the 24-episode 2014-2015 series from Studio Pierrot (Tokyo Ghoul) that is based on the shojo manga by Mizuho Kusanagi (published here by Viz Media). The protagonist of this series is a teenage princess who has to flee when her father is murdered, and while on the run she has to learn how to fight with both sword and bow in this action-packed adventure/romance.
For those who like idol sagas there is, Shonen Hollywood: Holly Stage for 49—Complete Collection (Funimation, 325 min., Subtitles Only, $44.98), which collects the 13-episode 2014 series from Zexcs that follows a young boy who joins a boy band idol group.
Also due this week are Fairy Tail: Part 20 (Funimation, 350 min., BD/DVD Combo $54.98), which contains the latest episodes of the popular D&D-Influenced manga and anime property, the action-packed "magical girl" romantic comedy Gonna Be the Twin Tail: Complete Collection (Funimation, 300 min., BD/DVD Combo $64.98), and the 2012 Gainax school comedy Medaka Box: Seasons 1 &2 Collection (Sentai Filmworks, 600 min., $79.98, BD $99.98).
Vintage releases include a new edition of the classic 1996 mecha series After War Gundam X: Collection 1 (Right Stuf, 600 min., Subtitles Only, $49.99), which collects the first half of the seventh Gundam series, arguably the most important mecha franchise in anime history.