Humanoids Inc has announced its Fall 2016 lineup, including a few titles that are sure to exhilarate fans of Euro comics and
bandes dessinees
.
In August, Humanoides will release Alexandro Jodorowsky and Francois Boucq's classic Western, Bouncer, an omnibus 412-page, 7.9" x 10.8" hardcover that includes the first seven volumes in the series, as well as an afterword. Originally published as several separate volumes in French by Les Humanoides Associes and Glenat, Bouncer debuted in 2001 and the most recent installment was released in 2013. While this new Humanoids edition contains the first seven volumes, it is unclear whether the remaining ones done by Glenat will be included in a future edition.
Previously, Humanoids published individual English-language hardcover editions of Bouncer from 2002-2015, encompassing the first four volumes of the series. Additionally, a trade paperback of the first story, "Raising Cain," was released by Humanoids and DC Comics in 2004. Yet, this is the first English-language edition to contain all seven original Humanoids-owned Bouncer stories. Bouncer retails for $44.95.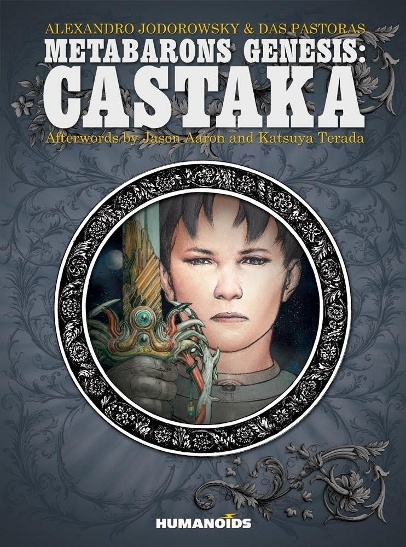 September finds Humanoids increasing its already strong Jodorowsky library with
Metabarons Genesis: Castaka
. Originally released by Humanoids as a 112-page, oversized, deluxe edition in March 2014 and a 120-page hardcover with an afterword by Jason Aaron and Katsuya Terada in March 2015, this
Metabarons
prequel appears to be a new edition with the original 2014 cover. Working with artist Das Pastoras (
Thor: God of Thunder
), Jodorowsky returns to the universe he created with Jean Giraud/Moebius in
The Incal
for an exploration of the Metabaron's origins and first ancestor Dayal de Castaka. This latest edition is a 7.9' x 10.8" color, 120-page hardcover and retails for $29.95.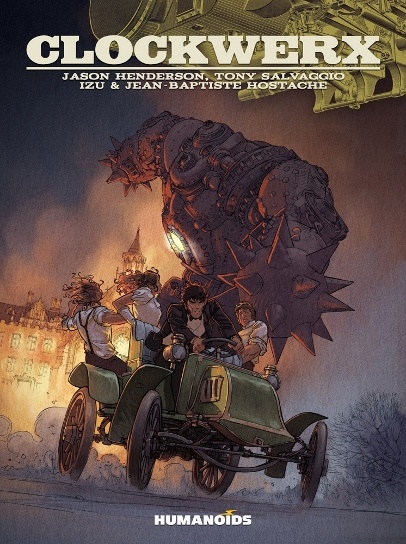 Also in September is the team-up of writers Jason Henderson (
Ben 10, Hulk: Broken Worlds
), Tony Salvaggio, and Izu alongside artist Jean-Baptiste Hostache for
Clockwerx.
Originally released in French by Les Humanoides Associes in 2008,
Clockwerx
was picked up for a German-language edition by Splitter Verlag in 2011, who released a second volume of the series. Humanoids published an English-language edition as an oversized hardcover in 2013. This new, trade paperback edition of the Victorian-era steampunk adventure is a 112-page, color 7.6" x 10.2" version and retails for $19.95.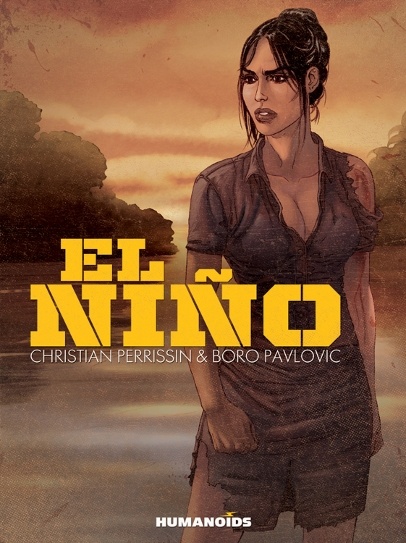 Moving away from Jodorowsky and illustrating its diversity as an American distributor for
bandes dessinees
, Humanoids will premiere
El Nino
and
Legend of the Scarlet Blades
in October. Written by Christian Perrissin with art by Boro Pavlovic,
El Nino,
a 288-page trade paperback, is a tale of family and piracy as a long-held secret about a sibling pushes the protagonist, Vera Michailov, to search for her long lost brother. Prior to this new edition, Humanoids released an English-language version in 2005 through its then partnership with DC Comics.
El Nino
will retail for $24.95.
Also in October is Saverio Tenuta's
Legend of the Scarlet Blades
, a story of a lone ronin in a feudal Japan full of mythical beings as the hero, Raido, struggles to regain his memory. Prior to this 204-page, hardcover edition, Humanoids published
Legend of the Scarlet Blades
as an oversized, deluxe limited to 500 copies hardcover in 2013 and again as a hardcover in April 2015. This new version does not appear to include any of the special features of the previous two editions. The 7.9' X 10.8" hardcover retails for $29.95.
As Humanoids moves into November, readers find more trade editions of previously published classics. First up is a softcover edition of Darko Macan, Philippe Thirault, and Jorge Miguel's Balkans Arena. Originally released as an oversized deluxe hardcover edition in 2015, the new 112-page trade paperback finds former soldier Frank Sokol searching for his kidnapped son in Croatia as he fights to get him back. This trade edition will retail for $19.95.
Also in November is a reissuing of Elias the Cursed by Sylviane Corgiat and Corrado Mastantuono. Prior to this trade paperback edition, Humanoids published another paperback of volume one in 2011 as well as a hardcover in April 2016. A tale of sword, sorcery, and revenge, Elias the Cursed retails for $19.95.
Finally, in December, Humanoids showcases Weapons of the Metabaron, Barbarella, and By the Numbers. The third version of Weapons of the Metabaron by Jodorowksy, Travis Charest, and Zoran Janjetov, is another hardcover edition of this Humanoids classic. First published in 2011 and again in 2013, this latest edition details the history of the Metabaron and how he amassed his power. At 64 pages, it retails for $19.95.
Next is Jean-Claude Forest's Barbarella adapted for English by Kelly Sue DeConnick. Much like Weapons of the Metabaron, this new edition will be the third hardcover version released by Humanoids here in the U.S. Debuting as a limited edition coffee table book in 2014 and again as an oversized hardcover in 2015, this latest version retails for $24.95.
Last is Laurent Rullier and Stanislas' By the Numbers. A French-language comic first published from 1990-1994 by Alpen, Les Humanoides Associes obtained the rights in 2003 and released four hardcovers of the series through 2004. An English-language edition was published jointly by Humanoids and DC Comics in 2004. In the spirit and style of Herge, By the Numbers is a whirlwind, world-travelling adventure story. As with several of the other collections, it remains unclear whether this new edition contains all the original Rullier and Staislas stories; however, this trade paperback retails for $24.95.