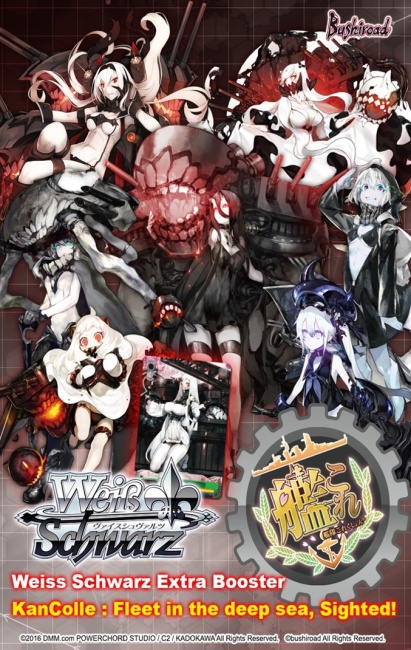 Bushiroad has announced the release of the Weiss Schwarz Extra Booster for KanColle, titled Fleet in the deep sea, Sighted! The set will release on September 16.

The "Kanmusu" girls continue their battles against the deep sea fleet, based on the popular KanColle web browser game. The cards in this set are designed to be combined with the earlier KanColle sets (see "More 'KanColle' for 'Weiss Schwarz' and "Bushiroad Expands 'Weiss Schwarz' Support").

Weiss Schwarz Extra Booster- KanColle: Fleet in the deep sea, Sighted! will contain 50 types of cards + 50 parallels and 15 special cards. The set will contain 20 C, 12 U, 12 R and 6 RR. 15 different gold foil hot stamp cards will also be part of the set. There are no cards with the "Fleet Girl" trait in this booster. There are 6 cards per pack, and 6 packs per display. The booster includes a special pack that contains a set of 5 SP cards and a special PR card.

The English language KanColle: 2nd Fleet packs will not include gold/silver campaign coupons or the PR cards included in the Japanese Edition. They may only be used in tournaments held outside of Japan.

This Weiss Schwarz release will follow the August Extra Booster expansion for Nisekio: False Love (see "ICv2: 'Weiss Schwarz - Nisekoi: False Love' Gets 'Extra Booster'").