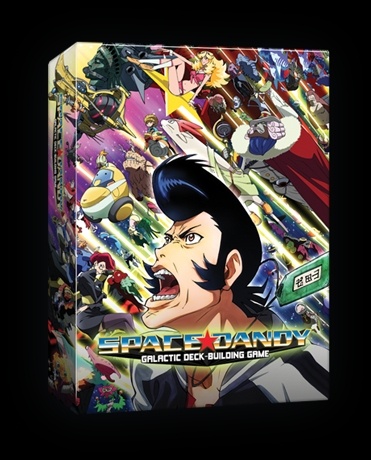 Manga publisher Seven Seas Entertainment and game publisher Ninja Division have formed Shinobi 7, a joint venture, to produce
tabletop games based on hit anime, manga and pop culture brands. Its first release will be the
Space Dandy Galactic Deck-Building Game
, which Seven Seas Kickstarted last year (see "
Seven Seas' First Game: 'Space Dandy'
"). Release is planned for Q4.
The new company also announced several new anime-based games for 2017:
A deck building game based on hot property Tokyo Ghoul (see "DVD Round-Up: 'Zoolander 2,' 'Doctor Who,' 'Major Crimes,' & 'Tokyo Ghoul'"), which has been a big hit for Viz in manga form (see "Top 10 Manga Franchises -- Fall 2015").
A miniatures-based board game based on Strike Witches (Seven Seas has the manga, see "'Strike Witches,' 'HAGANAI,' More").
An economy-based board game based on the anime Spice and Wolf (see "DVD Round-Up: 'Ride Along,' 'Walter Mitty,' 'Mallrats' & More"), which has done well as a Yen Press manga here (see "Top 25 Manga Properties—Full Year 2012").
"I'm very excited about the potential this joint venture creates for both companies," says Ninja Division Partner Kai Nesbit, who will act as Shinobi 7's President. "As the leading independent manga publisher in North America, Seven Seas has a tremendous amount of experience and expertise in licensing and publishing content from Japan. Together, our joint venture will bring a fresh perspective to the game market."
"I'm absolutely thrilled about our partnership," says Seven Seas Publisher Jason DeAngelis, who will act as Shinobi 7's CEO. "Ninja Division is a groundbreaking company that has created a new category of chibi-style games. They are experts at what they do, and have earned the respect of the gaming community. Combined with Seven Seas' licensing capabilities, Shinobi 7 is well-positioned to acquire and curate licenses and make high quality games."