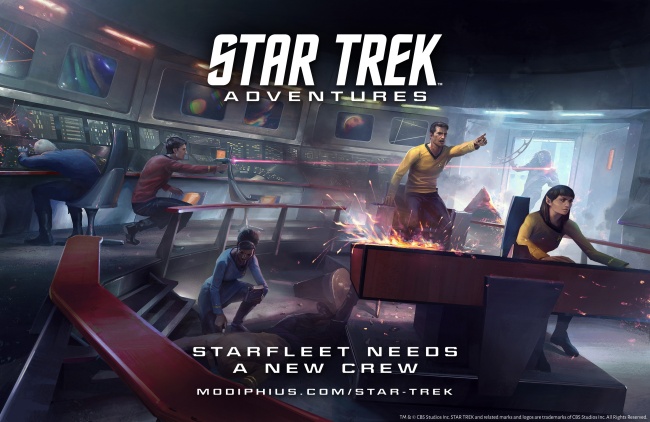 To celebrate 50 years of boldly going where no one has gone before, Modiphius has acquired a license from CBS Consumer Products to produce a role-playing game and miniatures line to be called Star Trek Adventures.

Set in the iconic sci-fi universe of Star Trek, the new game uses a modified version of Modiphius' 2d20 game system (also used in Mutant Chronicles, Infinity, and Conan), and was designed by Jay Little (Star Wars: Edge of the Empire, X-Wing Miniatures Game). The game will be supported by a line of resin and metal 32mm miniatures featuring iconic characters from the long history of Star Trek and geomorphic board tiles that depict scenes typical to the genre: Federation and Klingon ships and mysterious alien worlds.

Modiphius will unveil the new game at Gen Con next month with the "Starfleet Academy Intake" event, offering players the opportunity to sign up for the Star Trek Adventures living campaign playtest. Everyone who signs up at the show will receive their choice of a free Kirk or Picard miniature while supplies last. Similar events are scheduled for Spiel in Essen, Germany and Dragonmeet in the U.K. Fans can also sign up for the playtest online.

The rulebook for Star Trek Adventures will release in the summer of 2017, and all playtest crews from the living campaign playtest will be listed in the book manifest.