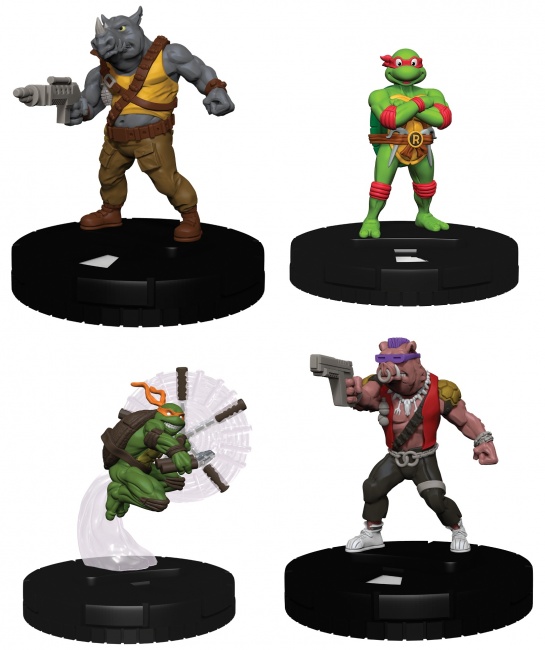 Korean giant Hanjin Shipping Company declared bankruptcy earlier this month, stranding nearly 80 ships at sea in the first few days (see "
Shipping Company Bankruptcy Threatens Holiday Shipments
"). For the first time we've now heard of a specific shipment headed for game stores in the U.S. that's been affected by this worldwide snafu: WizKids' upcoming
Teenage Mutant Ninja Turtles HeroClix: Heroes in a Half Shell
(see "
WizKids Expands 'HeroClix: TMNT
").
"We are in communication with the company and are working on a resolution to retrieve our product," the company said in a statement on its website. "WizKids is one of many companies being effected by the situation with a reported 85 ships being barred from docking due to Hanjin's inability to pay port fees. Our only release involved is the upcoming Teenage Mutant Ninja Turtles HeroClix: Heroes in a Half Shell Gravity Feed."
WizKids plans to launch the HeroClix release without the missing container, expecting to have an initial shortage of the product. They stated that the majority of the product has arrived already and that all pre-orders will be filled.
Around $14 billion in cargo has been tied up worldwide, according to Reuters, as ports, cargo handlers and tugboat operators refuse to work for Hanjin for fear of not getting paid. The company submitted documentation last week to a South Korean court that it will take 173 billion won ($154.4 million) to unload all the stranded cargo worldwide, according to the report. On Tuesday, the chairman of Hanjin Shipping Company parent Hanjin Group transferred 40 billion won ($36 million) to the floundering shipping company to help unload the stranded cargo ships, but there are not yet sufficient commitments to rescue all of the freight.