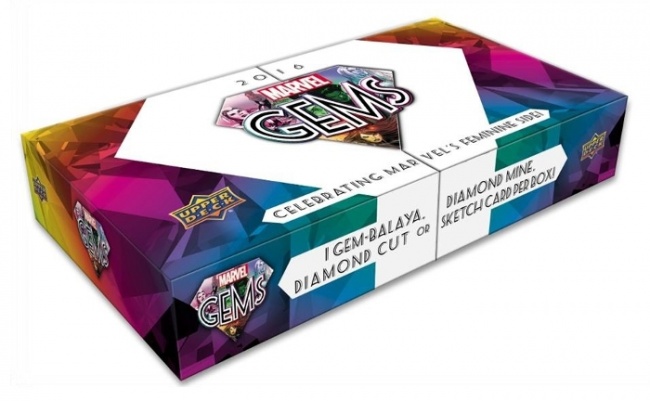 Upper Deck will release its first ever female-themed Marvel trading card set,
Marvel Gems
, in November.
The high-end set includes multiple inset technologies and themes. The base set is a total of 60 cards, numbered to 225. Hobby boxes include five cards and a bonus Exquisite pack which contains one card. The Exquisite base cards feature original art by Ariel Olivetti (Cable, X-Man, Green Lantern), in four numbered tiers. The Exquisite cards have Nameplate variations with metal plates attached to the cards. There is also Emma Frost Collection inserts on textured stock or Diamond Skin cards which include lab-created diamonds embedded in the card.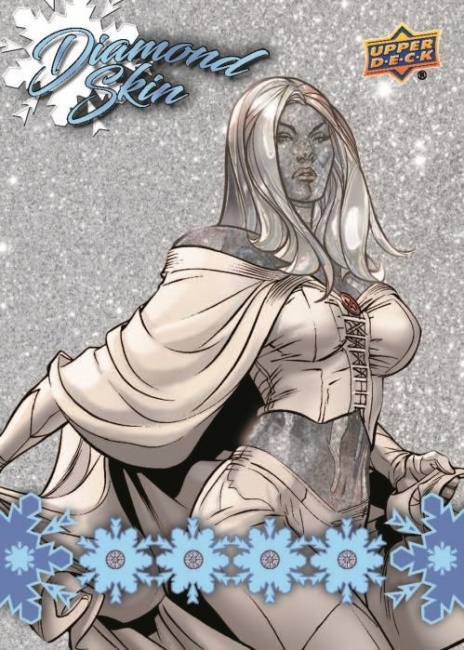 The set also includes Crystal Clear PETG cards, with one per box. The 20 card set includes 4 parallels. Also included are the new Gem-balaya cards, Shadowbox cards, and Diamond Cut cards, which feature front and back diecuts in the shape of various gems that reveal Marvel characters printed on see-through acetate. Each box will have one insert which will be fashioned from a variety of card technologies from perimeter diecut and soft touch coating to embedded pieces of wood and plastic lens. MSRP will be around $180.00/box.
(See promotional art for 10 cards in the gallery below.)