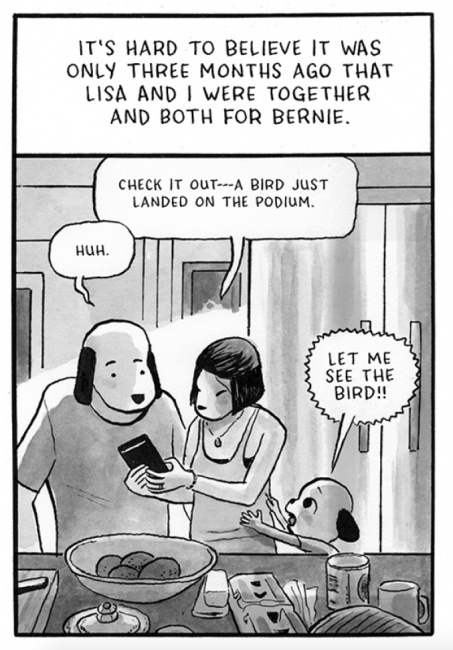 Drawn & Quarterly has announced that it has acquired the right to publish James Sturm's
Off Season
, a realistic, slice-of-life drama about a father who has to deal with both his kids and his estranged wife that is set against the turmoil of the 2016 primaries and election. Currently
Off Season
is being serialized on Slate.com. D&Q plans to publish its collection in the fall of 2018.
James Sturm, who co-founded The Center for Cartoon Studies, is perhaps best known for this saga of baseball in the 1920s, The Golem's Mighty Swing. Sturm, whose graphic novel Hundreds of Feet Below Daylight chronicled the hard lives of American miners, has been one of the most historically focused of modern American cartoonists, which makes Off Season, his first contemporary full-length graphic saga, so intriguing.
With his lean, expressive style (sort of the no-frills visual version of Hemingway's spare prose) Sturm is the least flashy of the current generation of American literary cartoonists, but in many ways he is the most profoundly poetic of them all.
Other recently announced Sturm projects include the wordless graphic novel Birdsong: A Story in Pictures for Toon Books (see "Toon Books Announces 5 Titles"), and the picture book Ogres Awake for First Second (see "Hatke, Sturm, Knisley, Yang").