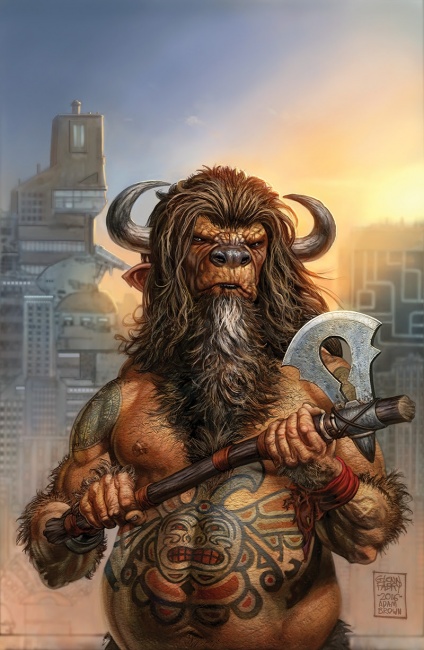 Neil Gaiman's bestselling novel
American Gods
will soon have a place on the small screen courtesy of Starz, and now Dark Horse Comics has announced a new home for the Hugo Award-winning story: comic books.
Adapted by frequent Gaiman collaborator P. Craig Russell, the American Gods comic will debut in 2017. Russell previously adapted Gaiman's Coraline and The Graveyard Book to critical acclaim (see "Review: 'The Graveyard Book' Vol. 1 HC").
Scott Hampton (Hellboy) is working on interiors, and Walter Simonson (Thor), Mark Buckingham (Fables), Colleen Doran (The Sandman), and Russell will provide guest interior art. Glenn Fabry (Preacher) and Adam Brown (Predator vs. Judge Dredd vs. Aliens) will provide covers. David Mack (Kabuki) and Dave McKean (Cages) are providing variant covers for the first issue.
"There's a tremendous amount of excitement, in my house and in the world, about the American Gods TV series coming up on Starz," said Gaiman. "What we've managed to keep a secret until now is that there is something just as exciting out there: American Gods, the comic. I've been watching P. Craig Russell breaking down the book into comic form, watching Scott Hampton painting the pages, watching Glenn Fabry create the covers, and grinning to myself with delight, because the American Gods comic is going to be an astonishing, faithful, and beautiful adaptation."
Starz began production on the American Gods series earlier this year (see "Starz 'American Gods' Begins Production"). Ricky Whittle (The 100) stars as protagonist Shadow Moon, a convict released from prison early to attend the funeral of his wife Laura, who is played by Emily Browning (Sucker Punch). Shadow is conscripted as a bodyguard by Mr. Wednesday, played by Ian McShane (Deadwood), and Shadow soon finds himself embroiled in a war between America's old gods and its new gods (see "Starz Debuts 'American Gods' Teaser Trailer"). It will begin running in 2017.
Dark Horse's American Gods: Shadows #1 goes on sale March 15, 2017.