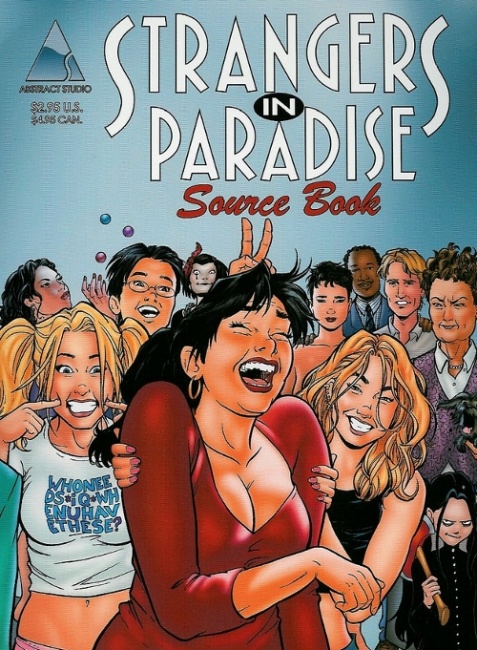 Over the weekend, Terry Moore was a guest at the Paris Comic Con, where he made a major announcement: his seminal
Strangers in Paradise
series is returning in 2018, according to
comicbook.com
.
During a Saturday spotlight panel, which ran live on Periscope, Moore spoke about his upcoming project,
Motor Girl
, which will feature Aunt Libby, one of the secondary characters from
Strangers in Paradise
. His other books have featured
Strangers in Paradise
cameos as well.
Moore was asked about the resemblance of a dead character in
Rachel Rising
to
Strangers
' much-reviled Freddie Femur. "I want to go back to
Strangers in Paradise
," Moore responded. "So, I need Freddie Femur around, because Katchoo needs somebody to pick on."
As news of the seemingly off-hand comment spread about the Internet, Moore took to Twitter to confirm the rumors. "It's true. Announced today in Paris,
SIP
returns for 25th anniversary in 2018," read Moore's official Twitter feed.
Moore didn't offer further details on the new
Strangers
series.
Strangers in Paradise
ran over 90 issues between 1993 and 2007. The series has a devoted following and is often credited with introducing non-comics readers to the medium.
Subsequent to the conclusion of
Strangers
, Moore worked on several multi-year creator-owned projects, including
Echo
and
Rachel Rising
. He has also contributed to comics properties such as
Adventure Time
(see "
New 'Adventure Time Comics' Series Features Guest Creators
") and
Mouse Guard
(see "
'Mouse Guard: Legends of the Guard' Box Set
").