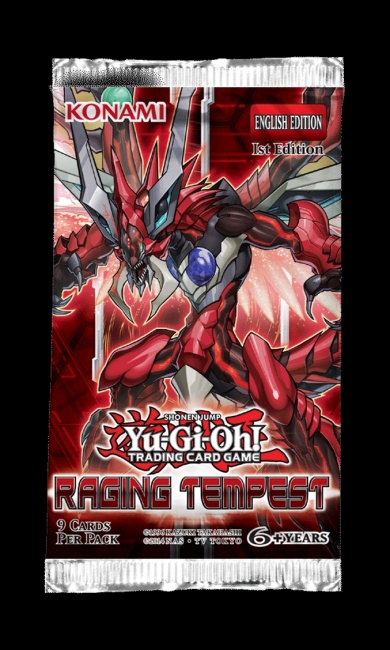 Konami Digital Entertainment has released details and package art for its upcoming Yu-Gi-Oh! Raging Tempest releases which it announced at New York Comic Con (see "Five New 'Yu-Gi-Oh!' Products").

The Yu-Gi-Oh! Raging Tempest Booster Set releases on February 10. The 100-card booster set introduces three new themes and enhances many existing themes including Dimension of Chaos, Breakers of Shadow, High-Speed Riders, Wing Raiders, Dragons of Legend "Unleashed", and the Pendulum Domination Structure Deck. There is a new team of Beast-Warriors that redefine Xyz Summoning, and Royal Spirits who conjure gale force winds that force opponent's cards back into their hand. The Crystrons from Invasion: Vengeance return for more time-altering chaos as they rewrite the rules of Synchro Summoning. The subterror Behemoths continue to attack The Hidden City. The new cards will capitalize on Spyral's elite espionage skills, introduce a new gadget and give agents the authority to bring enemy monsters in for questioning. The set includes 48 commons, 20 rares, 14 super rares, 10 ultra rares, and 8 secret rares.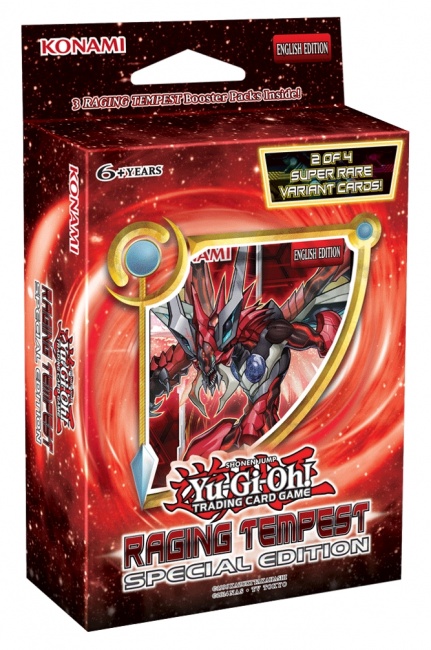 The
Raging Tempest Special Edition
releases on March 17. The box contains three booster packs of
Raging Tempest,
one of two foil version preview cards from the Spring 2017 booster, and one of two super rare variant cards.
These products will release after January's Pendulum Domination Structure Deck (see "Pendulum Domination Structure Deck' for 'Yu-Gi-Oh!'"), and Yu-Gi-Oh!: Movie Pack Gold Edition (see "'Yu-Gi-Oh!' Movie Tie-in Set").