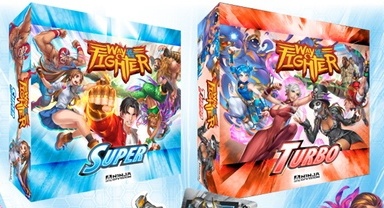 Ninja Division has revealed its upcoming card-and-dice game
Way of the Fighter
, scheduled to release next summer.
Inspired by sideview fighting arcade games like Street Fighter, designer Ben Yamada's Way of the Fighter pits martial artists against each other in arena duels. Ninja Division previewed the game design at last summer's Gen Con (see "Ninja Division Unveils Upcoming Games").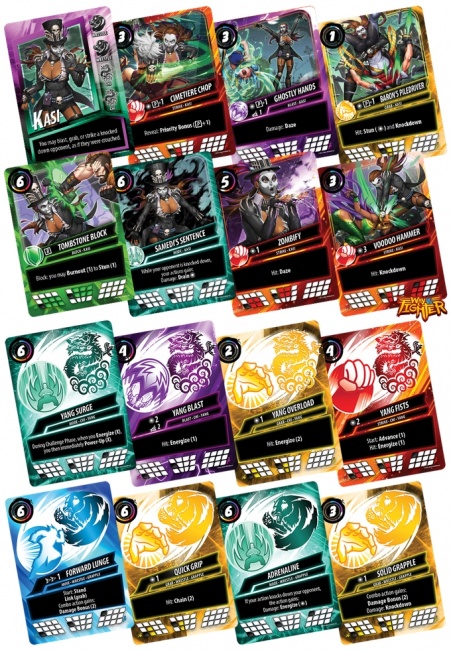 Each fighter has their own unique deck of 46 technique cards, which is added to four technique packs that reflect their fighting style. Players can customize their fighters between bouts by swapping out their technique packs for packs from a similar fighter. Action in the game is then resolved using a combination of cards and dice rolls.
The game will be sold in two separate boxed sets, the Way of the Fighter: Super and Way of the Fighter: Turbo. Each box will feature a different set of fighters, with five in each box, and different colored components: red and blue in Super and green and orange in Turbo. Each set can be used on its own for two-player games or the two sets can be combined together to play four-player tag-team battles.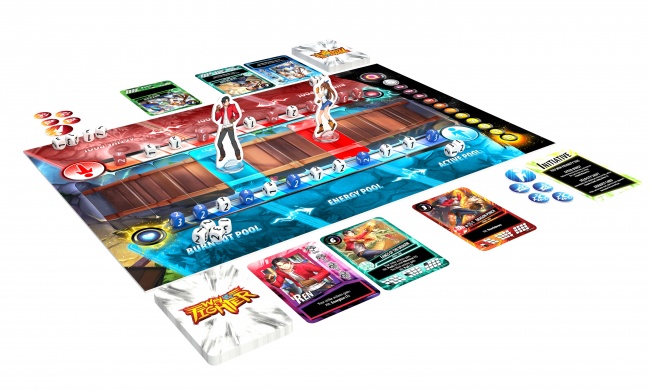 Each set includes 5 fighter standups with bases, 5 fighter decks, 36 dice, a double-sided game board, and tokens. MSRP is $50.00.
Ninja Division is funding Way of the Fighter with a Kickstarter campaign, which was originally launched on November 9. Citing the recent election and the Thanksgiving holiday as reasons for cancelling the campaign, Ninja Division relaunched it on November 28, and achieved its $20,000 funding goal in the first 24 hours. Backer fulfillment is planned for August 2017, with a trade release to follow.