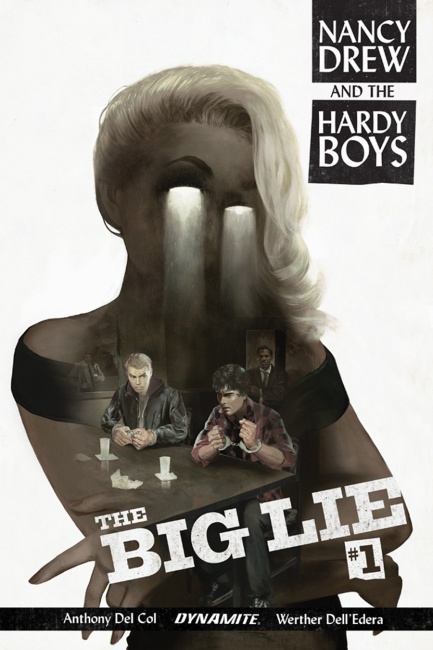 This summer, Dynamite Entertainment announced a licensing agreement with Simon & Schuster to bring classic teen detectives
Nancy Drew
and
The Hardy Boys
to comic books (see "
Dynamite's Two-Track Approach to 'The Hardy Boys' & 'Nancy Drew'
"). The publisher has announced the first title in the series,
Nancy Drew and the Hardy Boys: The Big Lie
will launch on March 8.
The series will be written by Anthony Del Col (Assassin's Creed, Kill Shakespeare), with art by Werther Dell'Edera (Batman: Detective Comics, House of Mystery) and first issue covers by Fay Dalton, Emma Vieceli, Robert Hack, and Werther Dell'Edera.
In this modern take on the popular teen detectives series, brothers Frank and Joe Hardy are accused of the murder of their father, who was a detective in the small resort town of Bayport. The boys must team up with femme Fatale Nancy Drew to find the real murderer and prove their innocence. It's Nancy Drew and the Hardy Boys through the lens of hardboiled noir like Ed Brubaker's Fatale and Darwyn Cooke's Parker.
Dynamite plans other titles for the license, including comics aimed at pre-teens, teens, and grown-ups. The license covers original graphic novels, manga and periodical comic books.
Fay Dalton "Virgin" cover (Retailer must order 50 regular copies to order 1 of this cover.)
Robert Hack "Virgin" cover (Retailers must order 40 regular copies to order 1 of this cover.)
Emma Vieceli "Virgin"cover (Retailers must order 30 regular copies to order 1 of this cover.)
Werther Dell'Edera "Nancy Drew Design Sketch" cover (Retailer must order 20 regular covers to qualify to order this cover.)
Werther Dell'Edera "Hardy Boys Design Sketch" cover (Retailer must order 10 regular covers to qualify to order this cover.)
(Description of preview: 3 covers, 2 art boards, and 1 interior page.)