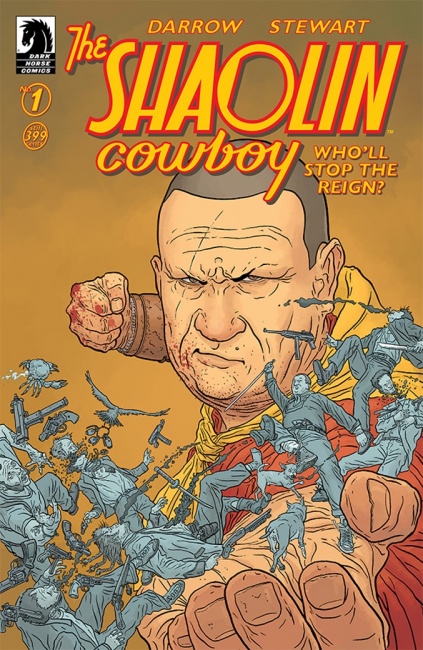 Dark Horse Comics will launch a new blood-spattered adventure of Geof Darrow's Shaolin Cowboy in April.
The four-issue The Shaolin Cowboy: Who'll Stop the Reign? will be written and illustrated by three-time Eisner Award winner Darrow, and colored by Eisner Award winning colorist Dave Stewart (see "'Lumberjanes,' 'Saga,' 'Little Nemo' Feted at 2015 Eisner Awards"). The first issue will have a cover by Darrow and Stewart, and a variant cover by Frank Miller. The new adventure will pit the titular hero against old nemeses bent on bloody revenge.
Shaolin Cowboy was created by Darrow and released by The Wachowski's Burlyman Entertainment in December 2004 (see "Matrix Creators Delve Into Comics"). Darrow was a conceptual designer / artist for The Wachowski's Matrix trilogy as well as Speed Racer. Dark Horse acquired the rights to publish a new series in 2011 (see "New 'Shaolin Cowboy'") and the publisher announced a new English-language edition of Bourbon Thret in 2015 (see "First 'Shaolin Cowboy' Adventure Gets English Translation"). That volume has not yet been released or scheduled.
Updated January 6 with correct information on the release of Bourbon Thret.