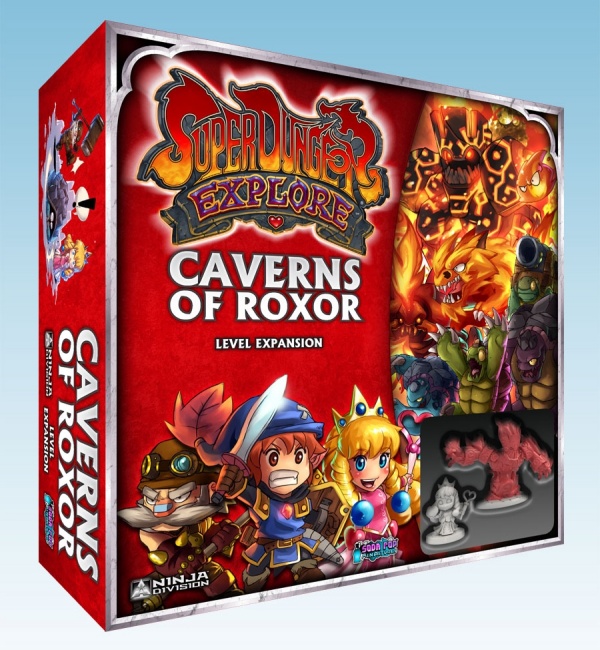 Ninja Division will release a new edition of the
Caverns of Roxor
Level Expansion
for its popular miniatures board game
Super Dungeon Explore
in February.
Caverns of Roxor: Second Edition was announced at Gen Con last year (see "Ninja Division Unveils Upcoming Games") and will feature reconfigured cards and new miniature sculpts for Roxor, Princess Ruby, and the Deeproot Scout. Inspired by classic video games, the chibi-miniature board game box contains three heroes, one mini boss, monsters and The Lord of the Fire Flows, Roxor. There are Classic and Arcade Mode Cards for monsters, and Themed Treasure Cards.
The box includes 1 Princes Ruby Hero, 1 Deeproot Scout Hero, 1 Star Guild Sapper Hero, 1 Roxor Dungeon Boss, 1 Rockgut Mini-Boss, 1 Lava Whirl Spawning Point, 2 Rock Pile Spawning Points, 29 Minion Monsters, 3 Hero Game Cards, 1 Roxor Boss Fight Card, 15 Classic Mode Monster Game Cards, 12 Arcade Mode Monster Game Cards, and 9 Treasure Cards. As an expansion, it requires the base game to play. The game is for 2 – 6 players, ages 14 and up and plays in 120 minutes. MSRP is $59.95.
Ninja Division recently released another miniatures game, LOAD (see "Ninja Division Reveals 'LOAD' Details").