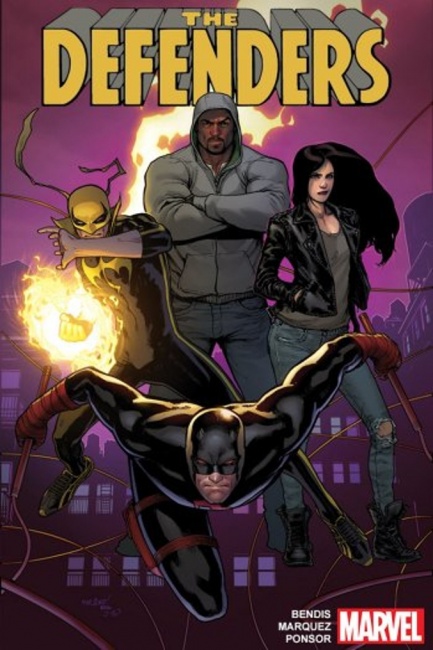 Marvel Comics has announced the launch of a new ongoing
The Defenders
title, written by Brian Michael Bendis, via
THR.
Bendis will be teamed with artist David Marquez (Invincible Ironman, Ultimate Comics Spider-Man) on a series which will launch in June, after a preview in Marvel's Free Comic Book Day offering (see "FCBD 2017 Gold Sponsor Comics Announced").
The roots for the new series are surprisingly not tied to the upcoming Netflix cross-over show featuring the team (see "'The Defenders' Confirms Two Returning Characters"). Rather, the origin for this series go back to Bendis' work on The New Avengers in 2012. There the team book wrapped up with Jessica Jones, Luke Cage, Iron Fist, and Daredevil already working side by side with Wolverine, Spider-Man and other superheroes.
Bendis co-created private investigator Jessica Jones, and had a notable run on the Avengers which included Luke Cage. Bendis also spent five years writing Daredevil. "I wanted to do a sprawling, Godfather-like epic at the street level of the Marvel Universe," said Bendis. "Really putting out hooks down and creating a modern, elaborate organized crime story that is different than what has gone before, but builds on everything that has happened to these characters, as individuals or as a team, and putting them in the hardest battle for the street that anyone can imagine."