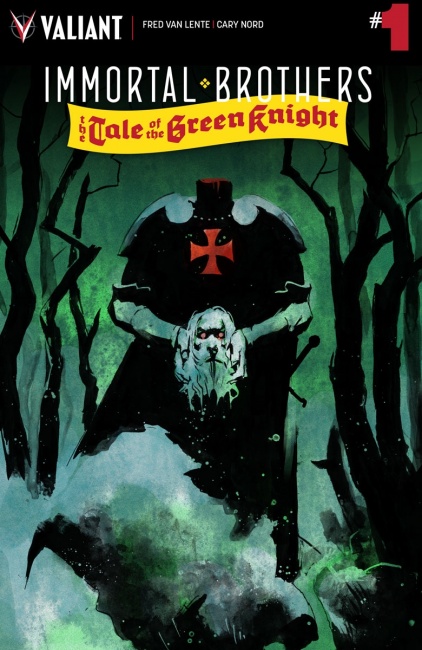 This spring, Valiant will celebrate the 25th Anniversary of Barry Windsor-Smith's Archer & Armstrong with
Immortal Brothers: The Tale of the Green Knight
#1, a standalone special reuniting Archer & Armstrong, the Eternal Warrior, and Ivar, Timewalker.
Written by Fred Van Lente (Archer & Armstrong; Ivar, Timewalker) and drawn by Cary Nord (Conan the Barbarian, X-O Manowar), the issue will feature four covers by Nord, Mico Suayan, Marc Laming, J.M. Draguanas. Immortal Brothers will retell that classic Arthurian legend of the Green Knight, pitting the Eternal Warrior against the Green Knight's axe. The 48-page issue is due April 12. MSRP is $4.99.
Van Lente looks to have a busy 2017 ahead of him, with the recently announced Deadpool Vs. The Punisher (see "Antiheroes Collide in 'Deadpool Vs. The Punisher'") also debuting in April and a comic adaptation of Syfy's Z Nation in the works for Dynamite (see "'Z Nation' Gets Comic Adaptation").