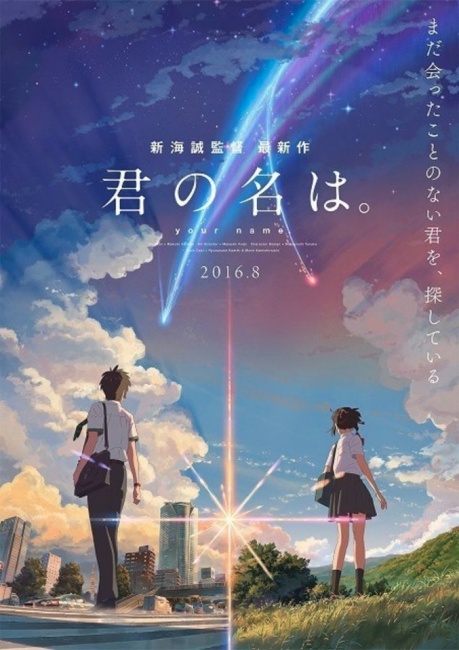 The hit anime romantic fantasy film
Your Name
will receive a U.S. theatrical release on April 7.
FUNimation licensed Makoto Shinkai's animated film last fall (see "High-Profile Anime Invading U.S. Theaters"), in preparation for an Oscar-qualifying theatrical run at LA's Laemmle Music Hall before the end of the year. Now the company will release the film nationwide in both subtitled and dubbed formats on April 7. The release will also debut the newly dubbed English soundtrack recorded by Japanese ban Radwimps.
Your Name has been a huge commercial success overseas, already grossing $281,012,839 worldwide ($194,402,240 in Japan). This makes it the fourth highest-grossing film of all time in Japan behind Spirited Away, Titanic, and Frozen. It is the second-highest grossing domestic film in Japan, after only Hayao Miyazaki's Spirited Away.
The official synopsis reads: The day the stars fell, two lives changed forever. High schoolers Mitsuha and Taki are complete strangers living separate lives. But one night, they suddenly switch places. Mitsuha wakes up in Taki's body, and he in hers. This bizarre occurrence continues to happen randomly, and the two must adjust their lives around each other. Yet, somehow, it works. They build a connection and communicate by leaving notes, messages, and more importantly, an imprint.
When a dazzling comet lights up the night's sky, something shifts, and they seek each other out wanting something more—a chance to finally meet. But try as they might, something more daunting than distance prevents them. Is the string of fate between Mitsuha and Taki strong enough to bring them together, or will forces outside their control leave them forever separated?
The Japanese trailer (with subtitles) can be seen below.