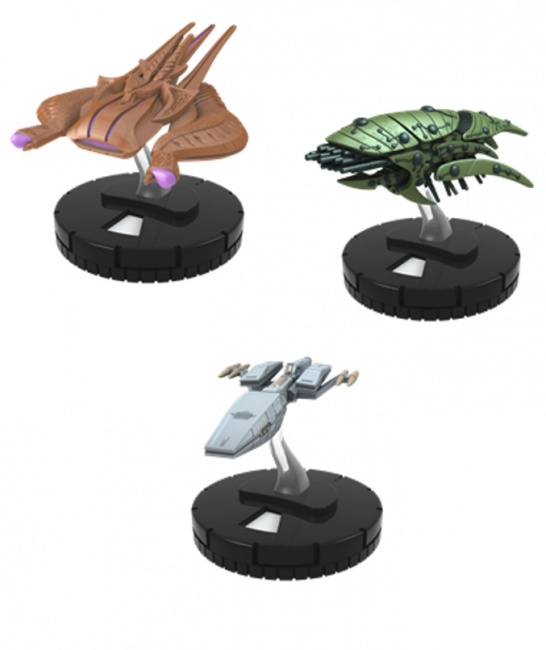 WizKids is bringing back its
HeroClix
-based starship combat game
Star Trek: Tactics
, with the new
Series IV Starter Set
and new ship boosters, releasing this September.
The Star Trek: Tactics Series IV Starter Set is designed as a jumping-on point for new players. It includes four Star Trek ships - U.S.S. Enterprise, U.S.S. Enterprise-B, I.R.W. Gal Gath'thong, and I.R.W. Algeron -each with new click-base dials. Two double-sided maps, a Powers and Abilities Card, and the tokens, dice, and character cards needed to play those four ships round out the set. The game can be played by 2 or more players, ages 14 and up, and takes about an hour to play. MSRP is $24.99.
The game can be expanded by adding additional ships, which are available from the Star Trek: Tactics Series IV 12 ct. Countertop Display. Each display has a random assortment of 12 ships out of the 25 ships available. The complete series includes 11 common figures, 10 uncommon figures, and 7 rare figures, all of which are new to the Star Trek: Tactics game. MSRP is $4.99 per figure.
To support the new release, WizKids is offering a Star Trek: Tactics Series IV Release Day Organized Play Kit. Stores that wish to host a release day event can order the kits, which include prizes and instructions. Each kit includes 13 prize cards, 5 double-sided maps, and an instruction sheet. Stores are limited to three Organized Play Kits, which are available while supplies last.
Star Trek: Tactics was a top seller for WizKids, ranking #8 on ICv2's list of top-selling collectible games as recently as the fall of 2013 (see "Top Collectible Games—Fall 2013").