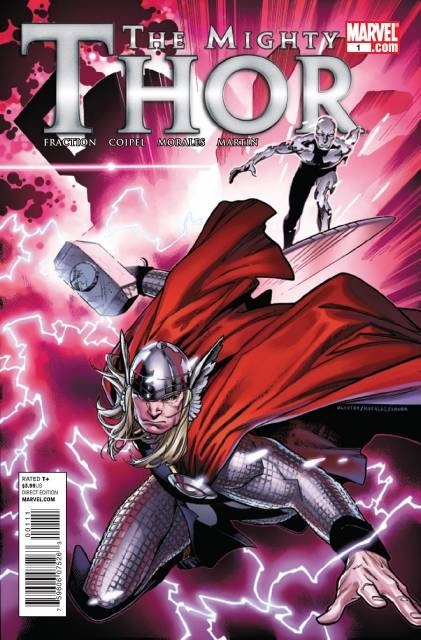 Marvel's Asgardian God of Thunder is the focus of three new
Marvel HeroClix
releases coming from WizKids in August.
The
Marvel HeroClix: The Mighty Thor
reintroduces a number heroes and villains from Thor's long and storied history, including Asgardians Sif, Balder, and Loki, the villains Skurge, Enchantress, and Hela, as well as The Incredible Hulk and Thorbuster Iron Man. This expansion also introduces the new "Legendary Wielder" mechanic, which allows heroes like Thor to carry their signature weapons.
The figures will be available in
The Mighty Thor Booster Brick
, which includes eight normal five-figure booster boxes and one Super Booster with a Colossal
HeroClix
figure. The complete set will have more than 70 figures, including 16 common, 16 uncommon, 16 rare, 12 super rare, 8 chase, 8 colossal, and 24 weapons. MSRP is $132.90 per brick.
A
Marvel HeroClix: The Might Thor Starter Set
will also be available, offering six figures—including the Avengers Prime team of Thor, Captain America, and Iron Man, Hulk, Hercules, and Loki—with new dials plus a new 3D object for the battlefield. This kit is intended to help players leap into play quickly, and comes with a double-sided map, rulebook, Powers and Abilities card, object and terrain tokens, dice, and character cards. MSRP is $24.99.
Rounding out the trio of releases is the
Marvel HeroClix:
The Mighty Thor Dice & Token Pack
, which includes a pair of custom dice with a Thor icon plus six action tokens featuring the character. MSRP is $9.99.
WizKids will support the new release with the
Marvel HeroClix: The Mighty Thor Release Day Organized Play Kit
, which participating retailers can order if they want to hold release day events in-store. Each kit includes three limited edition
HeroClix
objects, five double-sided maps, and one rules addendum and instruction sheet.
Another Thor-based set,
Marvel HeroClix: Hammer of Thor,
was the first expansion for
Marvel HeroClix
after NECA acquired WizKids in 2009 (see "
'Marvel HeroClix: Hammer of Thor'
").